Share your Fair on social media for a chance to win some goodies!
Want to showcase your book fair efforts to other schools while building excitement for your upcoming fair? One of the best ways to get the word out is via social media.
And we'd like to help you. So we've created some quick tips for making the best use of Facebook and Twitter, and we've created some sample posts and tweets that will help you promote your book fair, share photos from your event, and acknowledge the hard work of your staff and volunteers. You'll find everything you need to get started in your Chairperson's Toolkit.
We know how hard you work to make your book fair exciting and inviting. This is a great opportunity to use the power of social media to get the whole community twittering about your book fair events.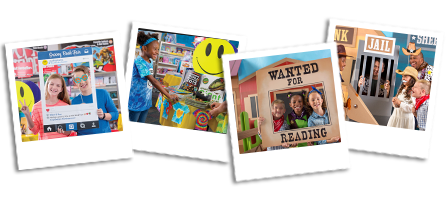 We'd also love to recognize your work on our social media channels and feature your great ideas on our social media wall. Share your #mybookfair pictures with us - we'd love to recognize your work on our social media sites! Be sure to follow us on Facebook, Twitter, Instagram, and Pinterest, and look for chances to win theme-decorating kits, t-shirts, books, and other goodies