A Reading Celebration for Everyone
A Book Fair is a lively and inviting environment where kids can find books they want to read.
We bring the entire event to your child's school, and all titles are carefully selected by our book experts.
A Book Fair is the perfect opportunity to build your home library, as well as your child's school and classroom libraries.
Book Fairs help your school stock up on resources to enrich your children's education and offers them volunteer opportunities. Best of all, each Fair provides kids access to more books.
More books means more choice, which means kids get to read the books they want to read. The right book can ignite a passion for reading, so we encourage families to work together to create a reading culture at home. Reading expands the mind, nourishes the imagination, and opens a world of possible.
Watch these inspiring videos and see how easy it is to make reading part of your daily life.
With hundreds of books offered at each Fair, it can be a bit daunting to find the right ones for your child. We take out the guesswork by providing:
Lists of top featured titles
Book trailers and author videos
Enhance your visit with the free Book Fairs app.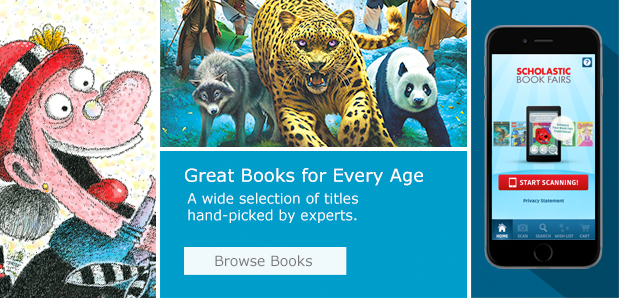 Get Involved
Shop, plan, read. There are many ways to participate in your child's Book Fair.
Volunteering at your child's Book Fair is a great way to see, firsthand, the exciting titles that are available each season.
Raising a reader doesn't have to be complicated; it can be as easy as dedicating just 20 minutes every day to change habits and get kids excited about reading. Go ahead, take the 20-day challenge!