We Are Family
Students share stories about their own unique families with an underlying theme of all families, whether traditional or not, as loving and caring ensembles.
Quick links to unit plan resources:
Overview
We are all part of a family. Families are configured in different ways with many factors affecting them: divorce, adoption, remarriage, ethnic diversity, grandparents as primary care givers, single parents, foster care, etc. In this unit, students learn that there are different kinds of families and no one structure is better than another. They discover that all types of families love and care for each other.
Objectives
Students will:
Discuss their family structures
Become familiar with the family diversity of their peers and others in the world
Learn about family habits, history, and values
Culminating Activity
Kinder-giving Feast
Two weeks before Thanksgiving, I send home a letter telling families about our Kinder-giving Feast and inviting them to share a family favorite dish. I also ask them to share the recipe for our Class Cookbook for the housekeeping center (and for me). On the Wednesday before Thanksgiving, our families gather for a feast of family favorites. Children perform a song and poem. This event gives families an opportunity to see all the projects we've been working on this month.
Supporting Books
---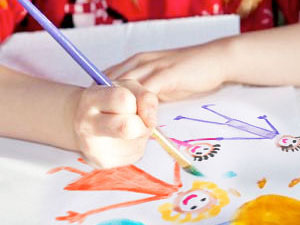 This lesson plan will teach children about diversity in families through a quilt craft, fingerplays, family photos, and more.
Shares a lesson plan for discussing the topic of family. Students talk about memories of family activities and play show and tell with objects that have some family significance.
Students track their ancestors' voyages to America in this Thanksgiving lesson plan focused on diverse cultural heritages.