Water, Water Everywhere!
Through various activities, students get a comprehensive understanding of the cycle of water.
Quick links to unit plan resources:
Objectives
Students will:
Understand how the same water has been used over and over again through the water cycle
Develop a list of ten important facts about water
Define and use words associated with the water cycle
Write a summary of how the water cycle functions
Follow step-by-step directions to create a three-dimensional cloud with several components
---
During Instruction
Culminating Activity
After students have assembled their clouds, hang them around the classroom and hallways for all to enjoy. After seeing our display, many of our staff members stop by each year by to tell the class what a great job they did.
---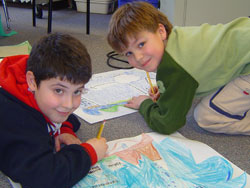 Students learn about the water cycle through a lesson emphasizing the continuity of this process by claiming we may use the same water as George Washington did.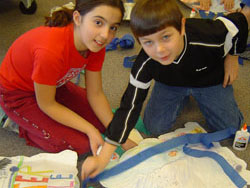 Offers a project suggestion for displaying student knowledge on the water cycle while increasing vocabulary.