Unit Plan: Writing an Autobiography
This two-lesson unit plan shows students how to brainstorm, organize, and write an autobiography.
Quick links to unit plan resources:
Overview
Set up your high school students for writing success at the beginning of a new school year by providing a variety of writing assignments that focus on their expertise — being a teenager! The simple pre-writing activity in this unit will help you and your students learn more about each other while creating classroom pride and a feeling of belonging at the beginning of the year. This is also a perfect time to introduce autobiographies.
Objectives
Students will:
Plan their autobiographies through prewriting activities
Create a positive classroom environment
Get to know each other within the first few weeks of school
Brainstorm and write about their life goals and plans for their future
Culminating Activity
Hold an Autobiography Share Day where all students will have the opportunity to read their autobiographies to the class.
---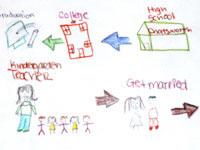 Help students identify their personal goals through a lesson in the autobiographical writing process.