Unit Plan: Writing an Autobiography
This two-lesson unit plan shows students how to brainstorm, organize, and write an autobiography.
Quick links to unit plan resources:
Preinstructional Planning
Objectives
Students will:
Plan their autobiographies through prewriting activities
Create a positive classroom environment
Get to know each other within the first few weeks of school
Brainstorm and write about their life goals and plans for their future
---
During Instruction
Culminating Activity
Hold an Autobiography Share Day where all students will have the opportunity to read their autobiographies to the class.
---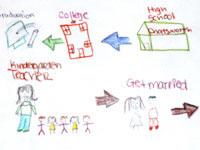 Presents a confidence-building lesson in which students define their goals, create life maps, and write autobiographical essays.
Help students identify their personal goals through a lesson in the autobiographical writing process.