A Beary Good Beginning: A Welcome-to-School Unit
Tie in a fun and memorable bear theme when introducing your students to the classroom rules, creating a class book, and practicing math skills.
Quick links to unit plan resources:
Overview
Children learn best by building upon things they know. With this in mind, students will use something familiar to them, bears, to learn classroom rules and procedures as well as develop writing and counting skills.
Objectives
Students will:
Learn rules and procedures for the classroom and school
Acquire the early literacy skills of identifying the parts of a book including the front and back cover, title, author, illustrator, as well as one- to-one correspondence and tracking
Become familiar with an illustrated story through listening
Learn their basic colors
Count with gummy bears
Culminating Activity
Host a picnic for students to celebrate what they've learned. Invite them to bring their teddy bears to school and read aloud the book The Teddy Bears' Picnic by Jimmy Kennedy.
Supporting Books
---
Introduce students to your classroom rules and help them identify appropriate classroom behavior through story reading and related game play.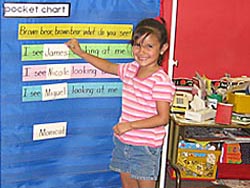 Students practice writing their names by creating a page for a class book modeled after Brown Bear, Brown Bear, What Do You See?.
In this lesson, students practice counting gummy bears, sort gummies by color, and chart the class's favorite colors.