You're Hired! A Introduction to Resumes, Applications, and Job Interviews
Students will develop their own career portfolios as they write resumes, complete job applications, and participate in mock interviews.
Quick links to unit plan resources:
Objectives
Students will:
Gain knowledge of the social context surrounding J.K. Rowling's biography
Compile information about author J.K. Rowling into a resume
Gather, compile, analyze, and categorize information about personal interests, skills, activities, careers, and achievements in order to create a career-related portfolio
Record information to be used in the creation of a resume
Learn appropriate resume techniques
Examine the Do's and Don'ts of completing a job application
Exhibit appropriate behavior during a mock job interview
Culminating Activity
After creating their career portfolios, allow your students to further reflect about their life experiences by practicing their college and scholarship essay-writing skills. Ask students to connect an anecdotal event to a college essay topic in the same way that they related anecdotal events to interview questions.
Supporting Books
The web has numerous sources for teaching students about the world of work. These print resources also support this unit.
Conversations With J.K. Rowling
by Lindsey Fraser
The woman behind the Harry Potter books tells the story of her childhood, the history of her writing career, the stories about her favorite and least favorite teachers, and the funny misunderstanding in her first fan letter.
Classroom Tip: Use this book as an alternate biographical source for studying J.K. Rowling's career in Lesson One.
The Harry Potter Series
written by J.K. Rowling

Harry Potter and the Sorcerer's Stone
Harry Potter and the Prisoner of Azkaban
Harry Potter and the Chamber of Secrets
Harry Potter and the Goblet of Fire
Harry Potter and the Order of the Phoenix
Harry Potter and the Half-Blood Prince
Harry Potter and the Deathly Hallows
Classroom Tip: Students can write a resume for a variety of characters from this popular series.
Spell Well! 50 Quick, Fun-Filled Ways to Help Kids of All Learning Styles Master Their Spelling Words
by Dee Benscoter and Geri Harris
A great resource with an abundance of spelling activities and tips.
Classroom Tip: Students can practice their spelling while completing the simple job application on pages 13–14.
---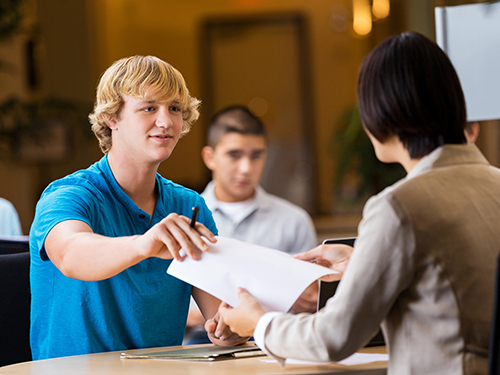 Students learn how to draft a resume and portfolio by first creating one for Harry Potter author J.K. Rowling and then writing one for themselves.
Students will practice completing job applications and participate in mock interviews with other students.