Learning About the Pilgrims With Crafts
These Pilgrim-themed lesson plans and activities are fun and educational for younger students.
Quick links to unit plan resources:
Overview
These lessons teach young students about appreciation and being thankful while explaining the story of the Pilgrims and their journey to the New World.
Objectives
Students will:
Construct a miniature Mayflower that will float in a cup of water
Compare and contrast what the Pilgrims were thankful for their first year in America and what we are thankful for today
Memorize the poem "I'm Thankful For..."
Make a laminated landscape placemat featuring a picture of the student and the poem
Lesson Extensions
Recommended Books
Books for Teaching the First Thanksgiving
With the help of these teacher-recommended titles, students will learn about Pilgrims, Native Americans, and more.
---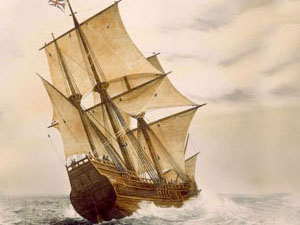 Teach students about appreciation as they make a miniature model of the Mayflower and write a letter of thanks.
Students will learn that the Pilgrims were thankful for the land on which they lived, make placemats that depict a landscape and a poem about being thankful, and name several things for which they are thankful.