PreK–2 Thanksgiving Activities
These Thanksgiving-themed lesson plans and activities are fun and educational for younger students.
Quick links to unit plan resources:
Overview
These lessons teach young students about appreciation and being thankful while explaining the story of Thanksgiving.
Objectives
Students will:
Compare and contrast what the Pilgrims were thankful for their first year in America and what we are thankful for today
Memorize the poem "I'm Thankful For..."
Make a laminated landscape placemat featuring a picture of the student and the poem
Construct a miniature Mayflower that will float in a cup of water
Lesson Extensions
Recommended Books
Books for Teaching the First Thanksgiving
With the help of these teacher-recommended titles, students will learn about Pilgrims, Native Americans, and more.
---
Students will learn that the Pilgrims were thankful for the land on which they lived, make placemats that depict a landscape and a poem about being thankful, and name several things for which they are thankful.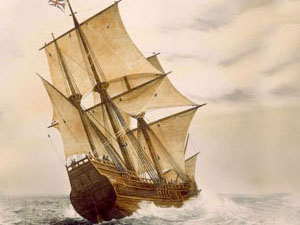 Teach students about appreciation as they make a miniature model of the Mayflower and write a letter of thanks.