New Creations From Six Simple Machines
Students explore simple machines through research, then apply knowledge to complete a model and brainstorm applications for simple machines in a new invention.
Duration
10 CLASS PERIODS
Quick links to unit plan resources:
Overview
Students explore simple machines and their importance in the development of modern technology. Students will complete research to develop an understanding of simple machines before applying knowledge to complete a model and brainstorming applications for simple machines in a new invention.
Objectives
Students will:
Observe and identify the types of simple machines
Conduct research and gather data to increase knowledge of simple machines
Apply knowledge and organize data to complete a graphic organizer and focus questions
Identify and understand the terms: force, effort, work
Communicate data and observations to a partner
Demonstrate knowledge by designing and constructing a model of an obstacle course, utilizing simple machines
Develop expository writing to sequentially describe the use of the model
Present creative and written work in an oral presentation
Brainstorm ideas for a new product using simple machines
Communicate a finished project through an oral, written, and graphic presentation
Culminating Activity
Host a "Young Inventors" Day. Students could create presentations on various young inventors who were responsible for many products important today. Students could dress the part of famous inventors, and perform "Who Am I" skits. Inventions made by the class could be displayed and presented to parents, other students, and faculty.
Supporting Books
Books About Inventors and Inventions
---
Students gain knowledge about simple machines through a short research project that will build a base for the next two lessons in the unit.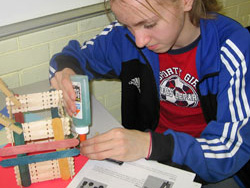 Students apply the principles of simple machines to create events in a wacky obstacle course, similar to those seen on popular television shows such as Survivor, Fear Factor, and Endurance.
Students will utilize higher level thinking skills by formulating new applications for simple machines in an original invention that solves a common problem.
---
GRADES
PreK–K, 1–2, 3–5, 6–8