Look Up! Look Down!
Students examine soil, create a prism, and make their own landforms in this environmental unit plan about geology, landforms, and the atmosphere.
Quick links to unit plan resources:
Objectives
Students will:
Learn characteristics of landforms such as mountains, hills, plains, plateaus, valleys, canyons, islands, and volcanoes
Describe environments of Earth such as deserts, forests, jungles, cities, and coastlines
Identify the physical properties of soil, sand, rocks, and minerals
Observe, classify, and compare substances found in the soil
Understand that white light from the sun can be refracted into a spectrum of colors
Observe and record the changes in the sky
---
During Instruction
Culminating Activity
Take a field trip to a hilly area where you and your students can hike up a small mountain. Observe the landforms and soil as you walk and how the sky looks different from the top of the hills. You may want to also visit an observatory.
Supporting Books
---
Presents a lesson plan about land formations, involving students building a topographical model.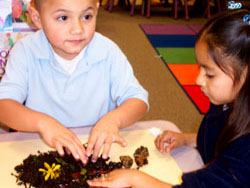 Presents a lesson in which students study the organic and inorganic properties of soil through experimentation, observation, classification, and data analysis.
Students observe, record, and describe colors and changes in the sky, including light refraction.