Literature Circles for Reluctant High School Readers
Three lessons that will encourage all of your students to get excited about literature
Quick links to unit plan resources:
Preinstructional Planning
Objectives
Students will:
Work in cooperative groups where everyone is involved to read a novel.
Fulfill their chosen Literature Circle Role(s) to contribute to the group.
Complete literature responses and participate in the "Technological Grand Conversations."
---
During Instruction
Culminating Activity
Students choose between creating a summarization storyboard, a graphic novel of the book (or selected section of the book), performing a scene from the book with a context book talk, or writing a character journal. These projects all demonstrate a connection and comprehension of the novel while giving students a choice in how they are assessed.
Supporting Books
---
In this lesson, students form cooperative groups and read a short text. First-year teachers can teach the class about the roles and expectations of a literature circle.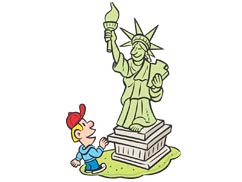 Students form cooperative Literature Circle groups of 3–5 members to read, discuss, and respond to a novel.
Students discuss their Literature Circle books with other students who have read the same titles using technology that encourages thoughtful responses.