Lewis and Clark Teaching Guide
Grades
PreK–K, 1–2, 3–5, 6–8
Duration
17 CLASS PERIODS
Quick links to unit plan resources:
Objectives
Students will:
Use Web technology to access information on the explorations of Lewis and Clark and the Corps of Discovery
Make decisions on what skills, tools, and supplies would be needed to go on a journey like Lewis and Clark's
Participate in active writing activities and peer review
Use technology tools to synthesize information and communicate that knowledge
Investigate change over time to gain perspective on the successes of the Lewis and Clark journey
Write a first person journal as if they were in the Corps of Discovery
Interpret information from maps through historical and current map comparisons
Develop an understanding of the Native American cultures encountered by Lewis and Clark and how they assisted the Corps of Discovery
Identify and analyze dates and the passage of time
Demonstrates comprehension through experiential response
---
During Instruction
---
Students receive a brief overview of the Lewis and Clark adventure and six selected discoveries. They will write descriptions of discovered objects as part of a final project.
Focuses on the leadership and courage exhibited by the Corps of Discovery in the face of challenges. Students use their reading comprehension, visual literacy, writing, and map skills.
Focused on the challenges faced by the Corps of Discovery, and the effect the journey had on American history and Native American cultures.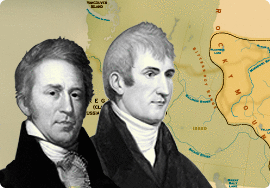 Learn about Lewis and Clark and their important venture Westward! Be a reporter, test your packing smarts, and relive their adventure! Use our teacher's guide to help your students understand the importance of Westward Expansion.