Launching a Writer's Workshop
Quick links to unit plan resources:
Objectives
Students will:
Interview each other and family members to find out why and when writers write
Discover where published writers get their ideas
Brainstorm writing ideas

Begin notebooking their ideas
---
During Instruction
Culminating Activity
The year-long Writer's Workshop should eventually culminate in a publishable piece of writing for each student. How? All the necessary ingredients are right there in their notebooks, which will be filled with ideas students can build on to create a finished piece worthy of publication.
Supporting Books
---

Students interview parents and each other to gather information about why and when people write.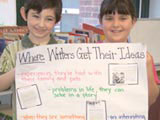 This lesson helps answer the question: what should I write about? Students discover where published writers get their ideas.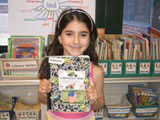 This lesson introduces notebooking and independent writing. Before starting their own notebooks, students read and learn from models.