Go for the Gold! Teaching Guide
An online student activity with corresponding lesson plans that provide a look into the Olympic Games, from its past in ancient Greece to the present-day international event
Quick links to unit plan resources:
Objectives
Students will:
Use Web technology to learn about ancient Greece and the Olympic Games
Build vocabulary skills
Explore the history of the Olympic Games
Make connections between Greek and English
Make and record a persuasive speech
Write a newspaper article on the 2004 Olympics
Create connections between the 2004 Olympics and past Olympic Games
Understand the contributions of ancient Greece to today's world
---
During Instruction
---
Students gain an understanding of the Olympic Games by focusing on the current events aspect of the games.
Students gain an understanding of the history of the Olympic Games, research its history and sports, and write a research paper.
Presents a lesson on the ancient Greek origin of the Olympics, geared towards grades 4-8.
Students research the impact of history, nationalism, and politics on the Olympic games and write a current events story on Olympics 2004.
Scholastic brings the thrill of the Olympic Games to students, who will learn everything from its ancient history to Greek root words.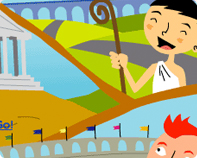 Only the strong (and smart!) win in these Olympic Game competitions, where students learn — and are tested on — Greek prefixes and roots.