Quick links to unit plan resources:
Objectives
Students will:
Make a wanted poster
Draw a self portrait
Participate in guided writing
Create an ABCABC pattern
Understand how people lived in earlier times
Construct maps of the school
Learn how to make an invitation
---
During Instruction
Culminating Activity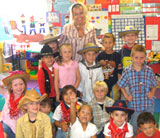 We're ready for Round-Up
As a way to end Giddy-Up Kindergarten, plan a Round Up party and invite parents and colleagues. At the Round Up, students perform songs from the old West, like "Old Susanna," "My Darlin' Clemintime," "Home on the Range," "I've Been Workin' on the Railroad," and "She'll be Comin' Around the Mountain." In my class, the students then show off their newly acquired dancing skills and square dance to "Oh Belinda." All the students are dressed in western attire and proudly wear bandanas and boleros that they made in class. To make the Round Up a very special school event, consider setting up stations like food booths and face painting.
Supporting Books
Giddy-Up Kindergarten
Booklist
---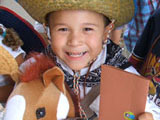 Students will learn about what life was like back in the Old West and compare and contrast the past to the present.