Getting to Know You With Math
Use math lessons and daily routines to build a classroom community
Quick links to unit plan resources:
Overview
Build a classroom community by helping students get to know each other through math lessons. Students will identify their similarities and differences by comparing their names, participating in daily class surveys, and sharing their morning commute routines with each other.
Objectives
Students will:
Learn the characteristics of a graph
Count from 1–20
Experience participating in a survey
Collect and keep track of data
Discuss and compare multiple pieces of data
Analyze data

Compare two or more quantities to determine which is more
Develop language for comparing quantities (ex: greater, less, more, most, fewer, least, same, and equal to)
Culminating Activity
At the end of the unit, have students share one thing that they have learned about a classmate. As a challenge, ask students if they can think of one thing that they have in common with someone else in the classroom. This should be something that they have learned from one of the three lessons.
Supporting Books
Chrysanthemum by Kevin Henkes
My Name Is Yoon by Helen Recorvits
This Is The Way We Go to School: A Book About Children Around the World by Edith Bauer
Wake Up, World: A Day in the Life of Children Around the World by Beatrice Hollyer
It's Back to School We Go by Ellen Jackson
On the Go by Ann Morris
---
Students will learn how to respond to a survey and practice describing and analyzing the resulting data. This lesson sets up a daily survey routine that can be continued throughout the year.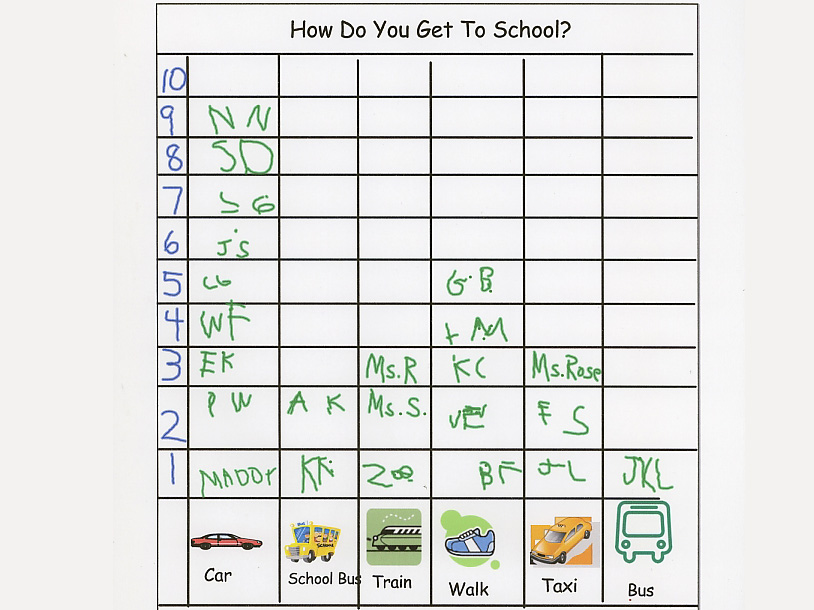 Students will learn about modes of transportation and survey the class to see how everyone gets to school. As you create a class graph of the data, students will learn more about interpreting and analyzing data.
Students will count the number of letters in their names and graph and analyze the data as a class.