Flying Through History: An Inquiry into Aviation
Quick links to unit plan resources:
Preinstructional Planning
Objectives
Students will:
Generate a list of questions about aviators and aviation to guide our unit
Identify details in photographs of aviators and airplanes
Utilize the internet to locate things that fly
Compare and contrast two things that fly
Identify character traits that facilitate fulfilling personal goals
Identify areas of nature that may have influenced humans quest for flight
Use technology to research the life of an aviator
Create a biography poster of amn aviator
Explain the iportant role perseverance played in an aviators' quest for flight
Identify major aviation events on a timeline
Provide rationale for placing events on class timeline
Identify the major parts of an airplane
---
During Instruction
Culminating Activity
Have a class aviation show. Students can create a paper airplane at home and fly them at the show. Students should be prepared to take on the role of an aviator as they share with the audience the character traits they displayed (objective #5) when creating a plane that flew. Various categories of recognition could include: amount of time spent in the air, length of flight, etc. Invite families to attend the show.
Supporting Books
Books for Investigating Aviation
---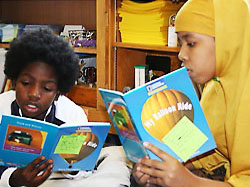 Presents a lesson focusing on things that fly. Students research, identify, compare and contrast, chart, and generate questions and answers about, things that fly.