The First Thanksgiving Teacher's Guide
With these standards-aligned lesson plans, your class will discover the real story of the first Thanksgiving feast.
Grades
PreK–K, 1–2, 3–5, 6–8
Quick links to unit plan resources:
Near the end of their first year in the New World, the Pilgrims held a three-day harvest feast. Today, we refer to this feast as the first Thanksgiving. Throughout this online activity, students will explore the Mayflower and its voyage across the Atlantic in 1620; the new settlement in Plimoth; the lifestyles of the Pilgrims and Wampanoags; and the people, foods, and activities that were a part of the first Thanksgiving.
The First Thanksgiving materials can be used at any grade level. The activity is organized into three main sections: Voyage on the Mayflower, Daily Life, and The Thanksgiving Feast. Timelines, interviews, and videos give students the chance to discover facts related to the early settlement of the Pilgrims.
Objectives
Students will:
Use technology tools to access, explore, and synthesize information about the Mayflower, Pilgrims, Plymouth colony, Wampanoags, and the first Thanksgiving
Develop an understanding of why Pilgrims moved to the New World
Develop an understanding of the colonial and Wampanoag cultures of the early 1600s
Compare and contrast lifestyles of the Pilgrims and Wampanoags
Interpret information from timelines
Create a timeline
Read for detail
Participate in a variety of active writing activities
Demonstrate comprehension through experiential response
Reflect on what has been learned after reading by formulating ideas, opinions, and personal responses
Common Core State Standards
The Common Core aligned lesson ideas for each grade band include convenient lists of the standards that each lesson addresses: K–2, 3–5, and 6–8. The captioned photographs and audio files present high-interest content, vocabulary-building aids, and engaging information designed to pique students' interest. In addition, the combination of text, visual images, and audio addresses the different learning styles of students, as well as the needs of ELL and special needs students.
Thanksgiving Book List
These books about Thanksgiving will support your students' knowledge and exploration of the historical feast, as well as modern celebrations and traditions.
---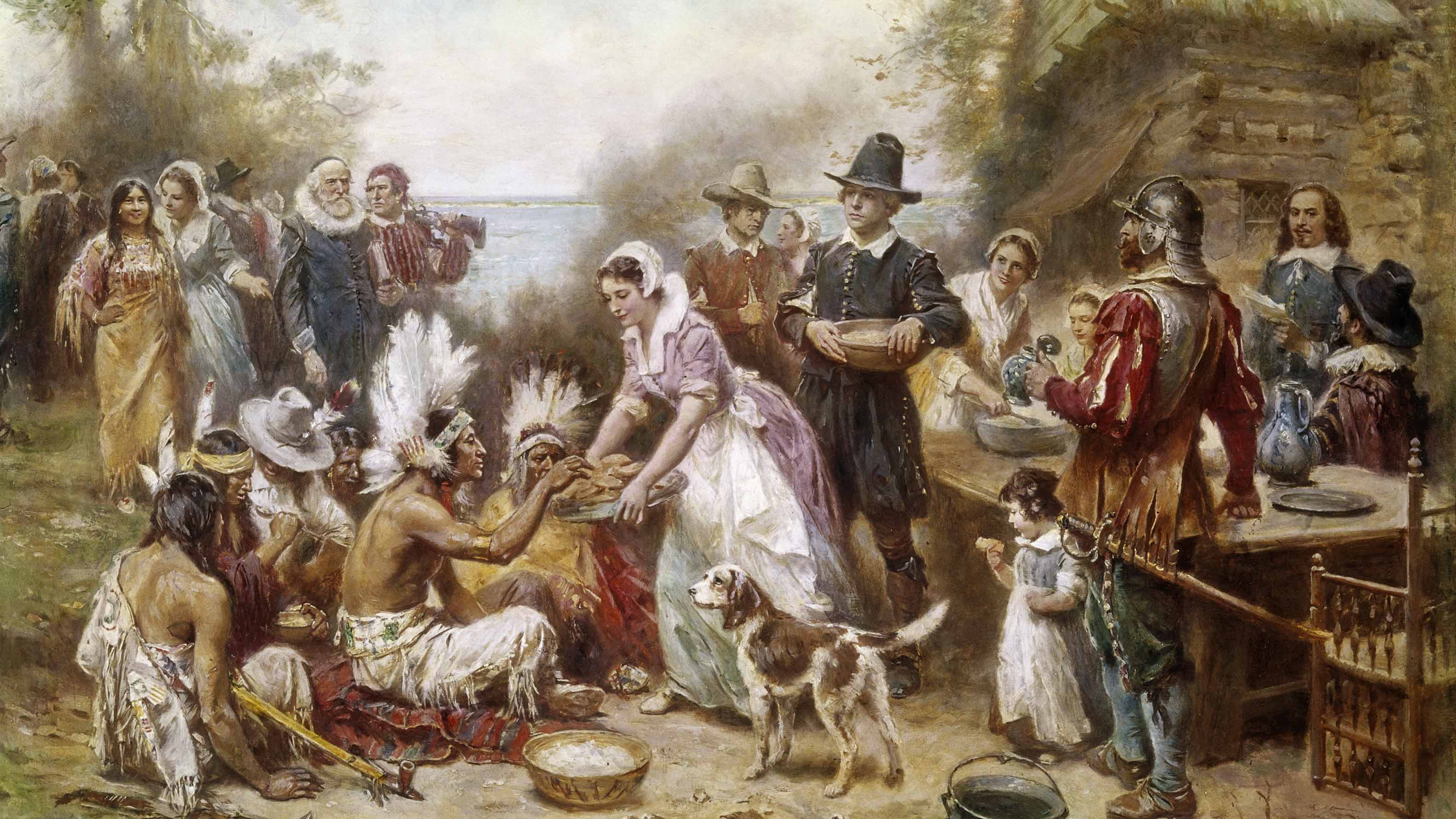 This lesson plan gives younger students an in-depth look into the First Thanksgiving and helps them understand the experiences of the Pilgrims on their voyage to the New World.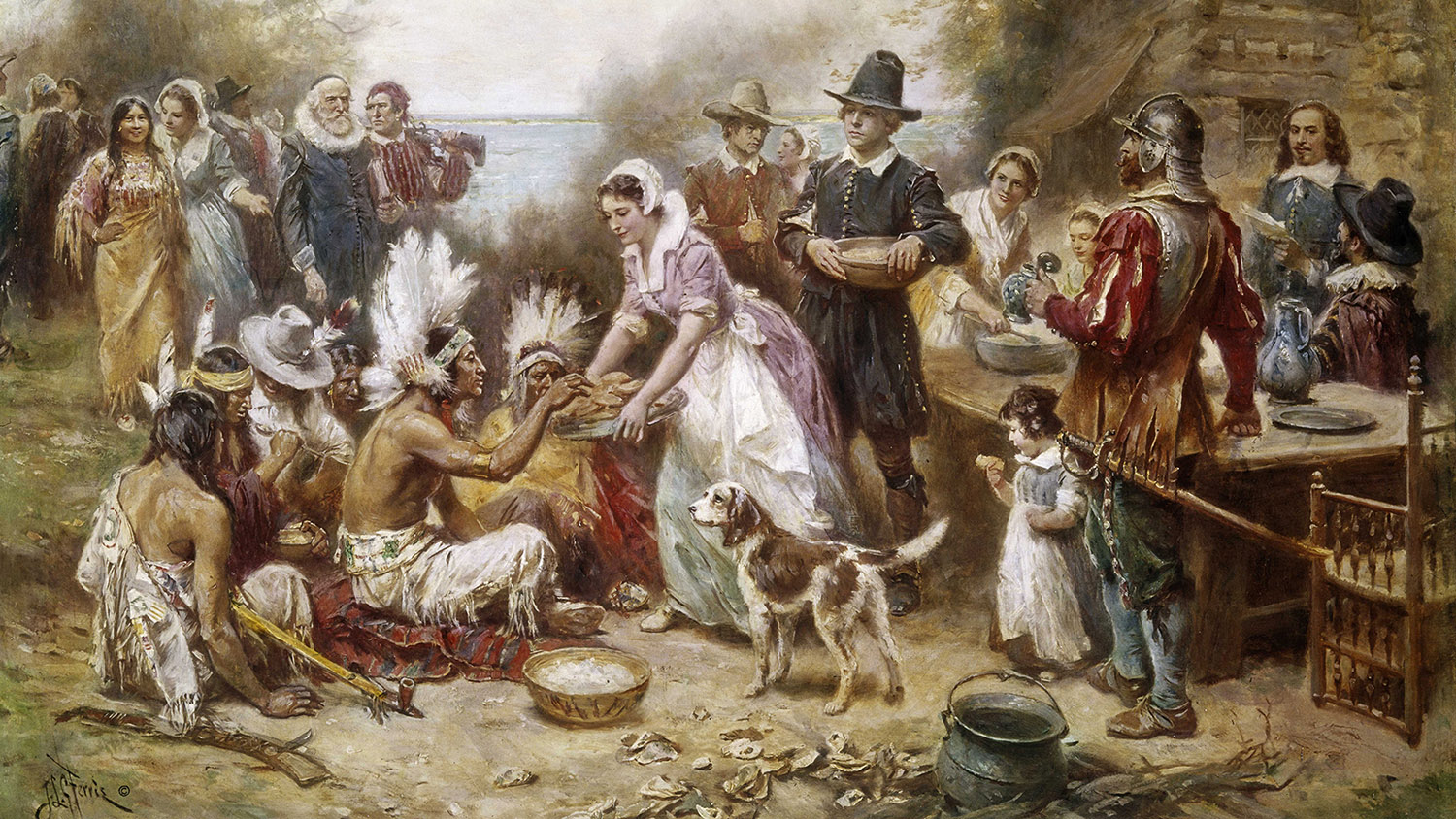 Now aligned to Common Core State Standards! Take a closer look at the Pilgrims' voyage, settlement, and first harvest celebration.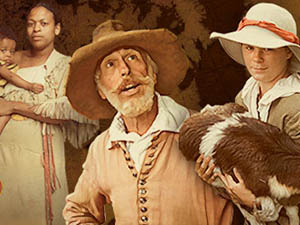 With Common Core-aligned lesson plans, your students will explore the relationships between the Pilgrims and Wampanoag, including their experiences, actions, and decisions relating to the settlement of Plimoth colony.