Extra! Extra! Titanic Sinks
Students act as journalists to relate the dramatic story of the sinking of the Titanic on April 15, 1912.
Quick links to unit plan resources:
Objectives
Students will:
Retell the story of the Titanic by writing a concise summary article about the disaster
Write critical-thinking questions about the disaster in order to conduct an interview
Listen and take notes during a live interview
Be able to answer five interview questions regarding the sinking with factual accounts
Compare and contrast different accounts of an event
Understand the cause-and-effect relationship that led to the sinking of the Titanic
Follow step-by step directions to put article and interview into a front-page news format
---
During Instruction
Culminating Activity
The culmination of this unit is the final display of all the newspapers in the school hallway. My students beam with pride as their hard work is showcased, and each year former students stop by to admire the annual display of newspapers and comment on their memories of Titanic. I realized a few years ago the positive impact these newspapers made when two students I had taught several years earlier told me they still had their papers hanging up in their rooms. There are few third-grade projects that would still elicit pride from a middle-school student!
Supporting Books
---
Students research and write a newspaper article about the sinking of the Titanic.
Students interview each other, taking turns posing as journalists and as survivors of the sinking of the Titanic.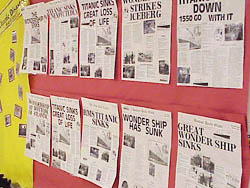 Students create a front-page newspaper article and layout, including photos, about the sinking of the Titanic.