Endangered Ecosystems Teaching Guide
Students will learn how Earthwatch teams study animals in their environment and work to preserve these endangered ecosystems.
Grades
PreK–K, 1–2, 3–5, 6–8, 9–12
Quick links to unit plan resources:
Objectives
Students will:
Discuss the importance of preserving endangered ecosystems.
Use graphic organizers to order their questions and discoveries.
Read online texts from the Field Reports to build comprehension of the nature of scientific inquiry.
Demonstrate an understanding of content by participating in a question and answer discussion of their reading.
Interact with a food web and gain an understanding of animal eating habits.
Complete a skill sheet and draw conclusions about the effects of change on the food web.
Read online texts from the field site to build comprehension about the rain forest and wetland environments and their organisms.
Demonstrate an understanding of diversity and adaptations of organisms by participating in a question and answer discussion of their reading.
Interact with online technology to build caterpillars that are suited to their environment.
Discuss how the student-built caterpillars' structure and function help them fit into their environment.
Participate in a bulletin board with the student and scientist explorers studying river otters.
Investigate a local ecosystem by making observations and collecting samples.
Use a variety of technological and informative resources to conduct research and analyze data about the ecosystem.
Write about the characteristics and changes in the ecosystem.
---
During Instruction
---
Lesson requiring each student to focus on one animal and its unique ecosystem. Involves reading comprehension, note taking, presentation, and writing skills.
Requires students to compare and contrast different endangered ecosystems and the animals that belong in them.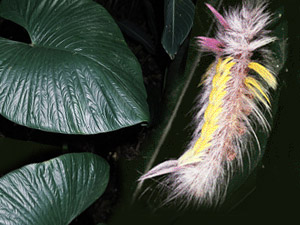 Students study the caterpillars of Costa Rica before creating crafty caterpillars of their own!
Students conduct an animal census in a designated area for six months to observe and record what types of species are present, in what numbers, and what they are eating.
Series of connected lessons about riparian zones, utilizing all learning modalities, to be taught either as part of a larger natural science unit on biomes or as a single unit of study.