Dr. Seuss Mini-Unit
Quick, hands-on activities that introduce students to the comical, kooky world of Dr. Seuss
Quick links to unit plan resources:
Objectives
Students will:

Become familiar with the similarities in an authors body of work
Gain an appreciation for the word play and rhyme featured in the work of Dr. Seuss
Identify, produce, and extend patterns
---
During Instruction
Culminating Activity
To celebrate the conclusion of this author study, have students use Model Magic to create their favorite Dr. Seuss characters. Place the characters in dioramas and display them in a prominent spot. Send out invitations to other classrooms and host an art show to share the wonderful art display. Invite your local newspaper to cover the event and share the artwork with the local community.
---
This hands-on activity lets young readers have fun with Dr. Seuss' language and experiment with physical pattern making.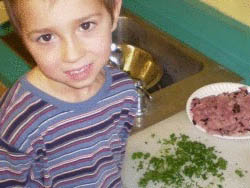 Students cook up a batch of the Seuss book's namesake, connecting literature with math and real-world skills.