Different Ways We Celebrate
Students explore the concept of tradition by using graphic organizers and responding to writing prompts about holiday customs. 
Quick links to unit plan resources:
Overview
In this unit, students continue to explore the world outside their homes and neighborhoods as they study a variety of ways that other families celebrate the holidays.
Objectives
Students will:
Read and recite facts about customs from the Christmas, Hanukkah, and Kwanzaa holidays
Compare and contrast these holiday celebrations using a graphic organizer
Write a five-sentence paragraph about one of the three holidays
Recall the months of the year
Learn the components of a calendar
Apply their learning about holiday customs to consider their own favorite holiday and family traditions
Draw a variety of symbols that represent their favorite holiday
Learn the term "tradition"
Supporting Books
The following books are helpful in studying diverse holiday celebrations.
Las Navidades: Christmas by Lulu Delacre
A bilingual collection of songs highlighting seasonal traditions.
Classroom Tip: Read this book aloud to introduce Christmas Songs from Latin America.

Light the Lights! A Story About Celebrating Hanukkah and Christmas by Margaret Moorman
Join Emma and her family as they celebrate two holidays, Hanukkah and Christmas.
Classroom Tip: Have students compare and contrast the Hanukkah and Christmas holidays.

The Night Before Christmas by Clement C. Moore, illustrated by Bruce Whatley
A traditional retelling of this Christmas classic.
Classroom Tip: Read this book aloud to share details of a traditional American Christmas celebration.

Seven Candles for Kwanzaa by Andrea Davis Pinkney; illustrated by Brian Pinkney
A beautifully designed picture book of the seven-day African American holiday.
Classroom Tip: Read this book aloud to introduce students to the traditions and origins of Kwanzaa.

The Scholastic Big Book of Holidays Around the Year by Susan Dillon
A terrific holiday resource of great activities, read-aloud fast facts, and reproducibles.
Classroom Tip: You can use this book as a resource guide for over 70 celebrations.
---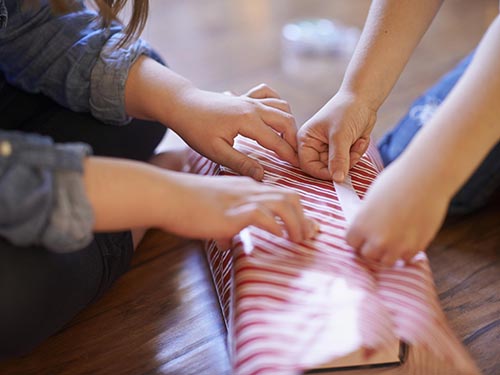 Students read about and discuss Christmas, Hanukkah, and Kwanzaa customs, and use a graphic organizer to compare and contrast the holidays.
Students learn the months of the year by making calendar pages for their favorite holidays and discussing holiday traditions.