Community Club Teacher's Guide
Quick links to unit plan resources:
Objectives
Students will:
Read for information about the workers in the community
Use visual cues and context to read new words
Build sight-word vocabulary
Reflect back on text to respond to a quiz
Process information and develop thinking skills by completing graphic organizers
Practice using the computer keyboard
Interview community workers
Write and illustrate picture books about community workers
Create trading cards featuring community workers
---
During Instruction
---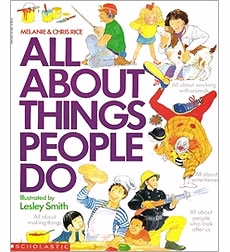 Simple text and photographs, along with audio support, introduce young readers to workers in their community.
Students create their own Community Worker picture books by reading about and interviewing a worker in their neighborhood

What's the main idea? Students read about various types of jobs, identifying important ideas in the text and recording them on a graphic organizer. Then, students create trading cards using the information from their notes.