Celebrate Our Favorite Authors
Quick links to unit plan resources:
Objectives
Students Will:
Sort and compare books from various authors.
Observe, synthesize, and describe themes and patterns authors use.
Formulate their own story using both an author's style and their own.
Distinguish parts of a book: title, author, illustrator, front cover, back cover, dedication page, and author-biography page.
---
During Instruction
Culminating Activity
We invite a children's book author to our class to read. We also take a field trip to an independent children's bookstore for story time. Students can spend time looking at the variety of books. Some bring money to buy their own books. We also visit the main library downtown because they have a large children's section and story time. I complete and return a library card application for each student ahead of time so that they can get their own library cards when they arrive. Students select books and some check out books written by the authors we've been studying.
Supporting Books
---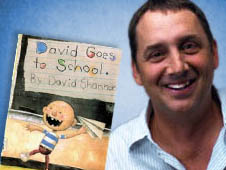 This lesson plan teaches students how to research author David Shannon and how to create a book that imitates his writing style.
Use this lesson to teach students to identify the parts of a book and to create their own books that imitate the styles of their favorite authors.