Biographies: Beyond Book Reports
Quick links to unit plan resources:
Preinstructional Planning
Objectives
Students will:
Understand that biographies give an account of a person's life and achievements
Explore several different types of biographies to help determine their area of interest
Use various resources to research one notable person.
Write a biographical sketch
Create several "artifacts" and gather props that help tell the story of the person they have researched
Prepare a presentation to share what they have learned
---
During Instruction
Culminating Activity
After students have researched several people who have made a difference, they present the knowledge they have gathered on "Meet Your Hero Day." Students dress up as the person they researched and present the contents of a suitcase or trunk they have prepared to the class. You may invite parents to attend this showing and provide refreshments afterwards to reward the students for their efforts.
Supporting Books
---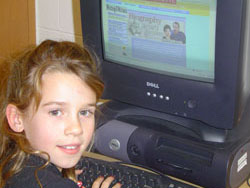 Use this lesson plan to introduce students to the biography genre through reading, research, further investigation into persons of particular interest, and report writing.