Quick links to unit plan resources:
Preinstructional Planning
Objectives
Students will:
Describe similarities and differences in the appearance of animals (e.g., size, shape, body coverings)
Distinguish similarities and differences in how animals grow and behave
Identify major structures of animals (e.g. arms, wings, legs, beaks, claws)
Compare various habitats of animals
---
During Instruction
Culminating Activity
If possible, teach this unit using live animals as examples, either in the classroom or on a field trip. After building plenty of background knowledge about animals, we visit The Natural History Museum and the zoo. Students bring clipboards with a recording sheet for the different kinds of animals they see. They record one animal for each category (see printable). We make "binoculars" out of empty toilet paper rolls that we use to "spot" the animals on our Animal Safari.
Supporting Books
---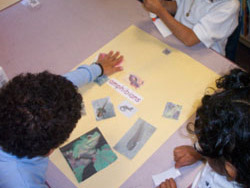 Use this lesson plan to show students how to sort and classify animals based on skin coverings and other characteristics, using creative and colorful charts.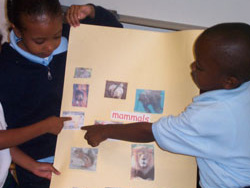 Students participate in fun learning activities -- including a mammal memory game and "eat like a mammal" -- to learn about mammals' characteristics and habits.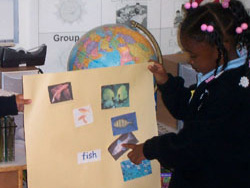 This lesson on the life cycle and behavior of fish includes fish-themed reading, games, and crafts, plus the observation of a live goldfish.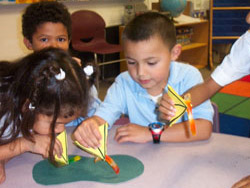 Students learn about the habits and characteristics of birds through reading, playing "memory," and making a bird feeder to attract specimens for observation.