Climb Aboard The Underground Railroad with Harriet Tubman
Quick links to unit plan resources:
Objectives
Students will:

Analyze the contributions of the historical figure Harriet Tubman

Demonstrate an understanding of life on the Underground Railroad by presenting information
Understand the perils and hardships of slaves by participating in a simulation
---
During Instruction
Culminating Activity
Students will participate in an Underground Railroad simulation. They will take on the roles as conductors, slaves, abolitionists, and slave hunters. Students will gain an understanding of what a slave experienced on the dangerous journey.
---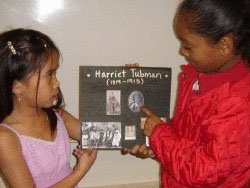 As they analyze the life of Harriet Tubman, students learn about the risks taken by conductors and passengers on the Underground Railroad. They also consider what might have been if the movement hadn't succeeded.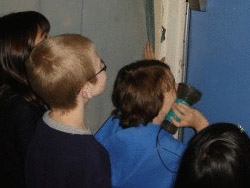 Students learn about slaves' pursuit of freedom during a simulation of slaves escaping from the South to the North. Students travel from different designated spots until they reach their destination — or until a slave hunter captures them.