Adolescent Issues
Because students are more engaged in the content being taught when it is related to their own lives, this unit makes connections between typical teen issues and essential writing skills.
Quick links to unit plan resources:
Overview
Because so many of my students were being affected by the "drama" in their lives, I decided to teach a unit that offers connections to real-life teen issues. This unit integrates themes such as peer pressure with lessons on subject-verb agreement, engaging students and helping them improve the quality of their writing. Although subject-verb agreement is not typically considered high school-level content, far too many of my students were exhibiting a lack of knowledge in this area through their written assignments.
Objectives
Understand that there are multiple means of resolving problems
Identify the purpose of writing a newsletter
Practice utilizing a thesaurus in order to make their writing more interesting and precise
Apply subject-verb agreement rules to their writing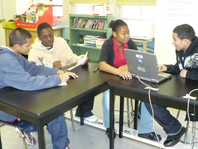 Culminating Activities
Literacy Project
My primary instructional writing focus within this unit is subject-verb agreement. Students work in groups of four for this project, creating a two-page newsletter centered on one typical "teenage issue." The newsletter must contain two main sections. In each group, two students are responsible for collaboratively writing the section that explains the issue; the other two students were responsible for collaboratively writing the section that provided multiple means of resolving the issue. Students were directed to use both the library and the internet as sources of information.
Mathematics Project
The students create Power Point presentations that include a student-originated word problem centered on a typical "teenage issue." The word problem is to be accompanied by photographs or video footage that illustrates the issue. Lastly, students are required to include one possible solution to their word problem. Students work with one partner on these presentations. (Note: Because I only had access to eight computers with a class of 20 students, I had students manually layout the information and graphics that they wanted to include in their Power Point presentation on plain typing paper first. This minimized the amount of time that students needed to actually spend on the computers.)
See Unit Matrix for Day-by-Day Teaching Plan (PDF)
Supporting Books
---
Prompt your students to think about problems that teenagers typically experience, in addition to issues in their own lives and the lives of friends and relatives.
Guide students through practicing the application of the subject-verb agreement rule by identifying singular and plural parts of speech.
Refresh students' memories or continue a lesson on subject-verb agreement by reviewing the exceptions to the basic rules.