The Year in Review: End-of-the-Year Memory Books
Students craft memory books of their top 10 favorite moments of the past school year.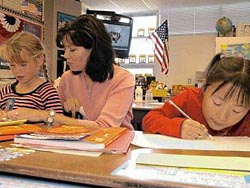 Objectives
Students will:
Select 10 significant memories from the past school year
Sequence the events in chronological order
Write descriptive captions for each picture
Create a time line for the year
Publish a yearbook or binder with a cover
---
Materials
Whiteboard or chart paper and markers

Computer access to digital or physical photos taken throughout the year
Access to a printer, ideally a color printer

Digital camera
9- by 12-inch construction paper in assorted colors, 4–5 sheets per student, plus extras

Scissors (I provide both plain and those with various scalloped edges)
Glue sticks
Paper and pencils
Rulers
Stickers
Coloring materials such as crayons, colored pencils, and markers for publishing
Binding machine and materials or stapler
During Instruction
---
Set Up
If you have taken digital pictures throughout the year and saved them, look through your files and, if necessary, organize them into computer folders categorized by event. My categories are usually field trips, assemblies, special events, holidays, curriculum, and various project titles. If possible, save all the digital photos into a shared folder for students to access in the computer lab or on classroom computers.

Note: If you cannot save the photos to a shared folder, print them as thumbnail photos that students can look through in order to choose those they would like printed.

Create a model of a photo with a caption.
Take a digital picture of the entire class and save it in the shared folder. If that is not possible, print one 4- by 6-inch copy for each student.
Have paper and art materials available for use.
---
Lesson Directions
Step 1: Ask students to recall some of their favorite events from the past year. Record answers on the board or on chart paper so they may be referenced later. When a substantial list has been generated, ask students to make a Top 10 list of their most favorite things about the school year that is nearly over.
Step 2: Using your school computer lab or classroom computers arranged in centers, have students visit the shared file of digital photos in order to find pictures that match events in their top ten lists. Tell students that the goal is to find at least 8 pictures they would like to print that will best help them remember the school year. Remind students that these 8–10 photos should correspond as closely as possible with their Top 10 list and that they should be imaginative when choosing their photos; pictures of themselves working on writing could match any project they did all year that involved a writing assignment.
Step 3: Have students copy and paste the photos into a word processing document. No more than two photos should go on one page. Have students print each page (in color, if possible).
Note: If you are printing the photos for students from those they selected from thumbnails, place no more than two to a page.
Step 4: When students have gathered all of their photos, they should put them in chronological order — the year from start to finish. Have the students cut out their pictures, then glue the photos onto sheets of 9- by 12-inch construction paper. Again, there should be no more than two photos on one piece of paper.
Step 5: Model writing captions for photos for the class. Make sure students understand that captions are brief and do not go into great detail. Have students write a caption underneath each photo that describes the picture and explains what the event meant to them. If possible, students should include the date when they write about their events.
Note: If students write the captions on the computer, have them print the captions, then cut them out and glue them under the corresponding picture in the year book.
Step 6: When students have finished writing about their favorite events, have them put the pages of the book in order. There will be pictures on the front of the pages, but the back pages will be empty when they are put together into book format. On these back pages, have students add other memories from the year. These might include a favorite project or unit, the best book they read, a really funny moment, the best day of the year, their favorite school lunch, their best friends, something that they wish they could do over, etc. The final back page of the book should be left blank. Students can write the word "Autographs" at the top.
Step 7: Let students create their own cover pages using a publishing or word processing program. Have students include the year, their name, and their teacher's name.
Step 8: Help students copy and paste the class photo onto the cover page they have designed. Have students print their cover pages and glue them onto construction paper.

Note: If students do not have the ability to cut and paste a class photo into another document, students should glue the class photo to a sheet of construction paper and decorate around it, including the school year's date, the teacher's name, and anything else they deem pertinent.
Step 9: Laminate the cover pages for extra durability.
Step 10: Use a binding machine (or a stapler) to put the yearbooks together. When the book is complete, allow students to decorate the different pages with stickers, stenciled titles, etc.
Step 11: When everyone has completed their yearbook, allow students to share their work with others during a class End of the Year Autograph Party. During this time, allow students to write positive messages to each other and sign their names.
---
Supporting All Learners
Students who moved in later in the year will not have as many memories as others and may feel less inclined to participate in or left out while doing this project. Have those students focus on the time they did spend in your room. Using a digital camera, take some photos that include the student with new friends and in new situations in order to give him or her a solid base from which to work.
---
Lesson Extensions
To give the yearbooks a "scrapbook" effect, have students mat the pictures on decorative papers in different colors and use scalloped scissors to trim decorative edges.
Have students create a pull-out time line that includes all the months of the year. Students can highlight all of their favorite events on this time line and also include events that happened in the local, national, and world news throughout the school year.
---
Home Connections
Inform students' families in a note or through your class newsletter whenever you begin a new unit in language arts. Parents may be able to come in and help bind the yearbooks or perhaps supplement your photo collection with images that they took during the school year.
---
Assignments
Write a list of their top 10 favorite events of the past school year.
Select digital images that represent their favorite events.
Write captions to match each photo.
Create a cover for their yearbook.
Sequence all the pages chronologically.
Post Instructional
---
Evaluation
Did students have a clear idea of what their purpose was?
Did you provide adequate time for each step?
Did you brainstorm enough ideas together?
Did you model enough for students to complete the assignment independently?
Were students of all abilities able to complete this lesson successfully?
Did students enjoy sharing their yearbooks with others?
What would you do differently next time to improve this lesson?
---
Lesson Assessment
Were the students able to choose pictures that represented their favorite parts of the year?
Did students write captions that described the pictures appropriately?
Did the students work together well while putting the yearbooks together? Were they offering constructive suggestions?
Was the finished product quality work?
---
Appears in This Collection