Using Each Trait to Improve Student Writing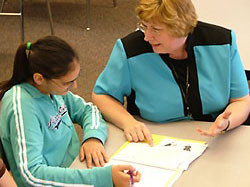 Objectives
Students will:
See examples of each trait in literature.
Discuss how each trait adds to the craft of writing.
Practice revision of a writing piece with a particular trait in focus.
---
Lesson Resources
Materials
Books or excerpts from literature that exemplify each trait (see booklist for suggestions)
Previous rough drafts for revision or short prompts to get students writing with the traits in mind
Writer's notebooks or folders to keep drafts, ideas and notes on the traits
Set Up and Prepare
Select samples of each trait in literature and mark an example or two of a way this piece shows mastery of the trait for which you have chosen to use it.
---
During Instruction
Directions
PART I
Step 1:
Define the trait of Ideas and revisit the language of the rubric under Ideas.
Step 2:
Share a sample from literature or a picture book that demonstrates the trait of Ideas. I use So Far From the Sea by Eve Bunting. See the booklist for more suggestions.
Step 3:
Point out an example of how this book exemplifies the trait of Ideas and solicit more examples from students. Take the time to discuss how the author uses details to show ideas rather than simply tell the reader. For example, in So Far From the Sea, Bunting relates much historical detail within the story of the grandfather's stay in a Japanese Interment Camp during WWII. My students always find much to discuss in the attitudes of each generation portrayed in the book and many have decided this interested them enough to read other books on the subject or conduct research on the topic. While it is easy to get caught up in this fine story, remember to come back to discussion on the author's craft of using Ideas.
Step 4:
Revisit a previous rough draft and have students flesh out their ideas with details and description that show their idea rather than just report it. If students have no rough drafts available (or if you wan them to have additional homework practice) assign a short prompt such as "the expert" or another idea that will help students practice the trait of Ideas. "The expert" prompt asks students to write a short piece on something in which they feel they have expertise. Another idea using the book The Hickory Chair by Lisa Rowe Fraustino is to ask students to write about an object that symbolizes something important. See the Scholastic book Using Picture Books to Teach Writing With the Traits by Ruth Culham for instructions on this idea and many more.
Step 5:
Students rate their writing on the trait of Ideas using the rubric and explaining their rationale to a partner or to you in written form.
PART II
Step 6:
Use the same method to teach each trait in this order: Ideas, Organization, Voice, Word Choice, Sentence Fluency, and Conventions. You will find the first three traits take the most time as students become accustomed to using each trait. I always try to use examples from the literature my students are reading in other classes along with my picture book samples. To Kill a Mockingbird by Lee is an excellent selection for ideas. I use Edgar Allen Poe's The Cask of Amontillado for Voice and John Steinbeck's work can easily be used with both Voice and Word Choice. Shakespeare brings many debates on Sentence Fluency. Of course, my students always look at e.e. cummings when we discuss conventions.
Step 7:
Include discussion of the traits as you go forward with other writing pieces and make sure to evaluate student writing on the traits, especially as students self and peer conference for revision. See the next lesson on putting all the traits together in Writer's Workshop.
Supporting All Learners
Looking through the lens of each trait helps all students to focus on how to improve their writing and not feel overwhelmed by everything that may need improvement.
Lesson Extensions
Have students find other examples of the traits in literature they have read. Perhaps they will bring you The Crucible by Arthur Miller for Ideas or for the Conventions of drama. Or maybe a student will cite Holes by Louis Sachar as an excellent example of Organization between the story set in the present and the flashbacks to long ago.
Home Connection
Use the ideas and samples from parents in the last lesson to springboard more ideas for student practice. Recipes? Catalog descriptions? A travel brochure?
Assignments
If students are not revising previous rough drafts, assign a short prompt for focus on each trait. Examples for each trait include "the expert," a compare and contrast, write a greeting card, portrait of a place, favorite foods, etc.
Evaluation
Study the way students are using each trait to determine the need for future mini-lessons or whole group instruction. Even high school students need practice, especially if the traits are new to them. What do you see as the stumbling points for your students? Did they struggle with one particular trait or did they seem unable to focus on only one trait? Writers eventually have to attend to all the aspects of good writing, but it can be overwhelming at first for students to think of them all at once. Trust the research on the traits and know that your students will improve with practice and good models. Remember to be a writer yourself and try revising your draft on the overhead from time to time for a particular trait. You will be surprised with the suggestions students give for improving your work!
---
Post Instructional
Lesson Assessment
Use the Writing Traits rubrics found in all of the trait books. Remember to look for student strengths in each piece of writing. What are the areas of improvement, as well as points to work on?
---