From

Telling Stories: How Words and Pictures Work Together
Compare picture books and their animated adaptations before investigating sequence and animation through flip books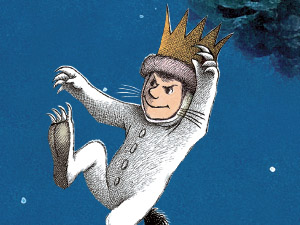 Objectives
In this lesson, students will:
Investigate how pictures and words are used to tell stories
Explore fundamental elements of literature, including character, sequence, setting, imagery, and mood
Discover the basics of animation by making flip books with a sequence of still pictures
---
Lesson Resources
Vocabulary
Sequence
Animation
Mood
Setting
Imagery
Character
Motion
Animate
Materials
Weston Woods film of your choosing (see list under Set Up and Prepare) and corresponding book
Computer and projector (or TV and DVD player) to show the Weston Woods film
Index cards to form flip books. Each student should have enough pages to create an animation that slowly morphs.
Scissors
Colored Pencils
Stapler
Set Up and Prepare
Choose a book and the accompanying animated film adaptation to study, such as:
Create a sample flip book that shows a simple action using your own drawings or a pre-made series of sequential illustrations. This flip book will be an example of a final product for the students to examine.
---
During Instruction
Directions
Step 1: Read aloud the picture book you chose from the Weston Woods list above. Now, tell the class you will be watching a movie based on the book. Ask them to pay attention to the kind of elements that are added to the film to help tell the story, such as music and narration.
Step 2: After the viewing, discuss the elements of the story used in both the book and the film, and those that are only present in one or the other.
Step 3: Introduce the word and concept of character. Who were the main characters? What do we know about them? Which of those things do we know because of the imagery, and which of those things do we know because of the words?
Step 4: Introduce the word and concept of setting. Where is the story set? How do the pictures and words tell us about where and when the story is set?
Step 5: Introduce the words and concepts of mood. Is the story serious, funny, suspenseful, quiet, crazy, silly, sad, happy? How do the pictures and words create mood?
Step 6: Introduce the word and concept of sequence. Use examples from the book and film. Ask what happened first, what happened second, what happened next?
Step 7: Discuss how Weston Woods made the book's imagery come to life in the film. Discuss narration, music, and animation. Tell your students how some animation is achieved by putting a series of still pictures together and showing them quickly, which produces the illusion of motion.
Step 8: Ask students to clap their hands twice. Now, ask them to break this action down into small steps. Have them explore how many small actions and movements are involved, and in what specific sequence.
Step 9: Tell students they are going to make short animations using their own illustrations. (You can also use a pre-made series of sequential illustrations that students can color and place in order.) Demonstrate using your own pre-produced example of a flip book showing a simple action, such as a flower growing taller and opening, or a smile face turning into a frown face. Show how each card moves the image a little bit. Then demonstrate how flipping them quickly gives the illusion of movement.
Step 10: Have students create their own flip books by drawing on the index cards.
Step 11: Join the index cards together with staples on one edge.
Extension Activity
Students may want to create an additional, more ambitious flip book using multiple small-scale movement images to comprise a longer animated sequence.
---