Teaching Tip: Diamantes Poems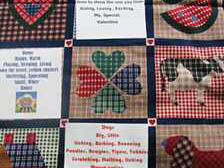 Fun and easy to create, Dynamic Diamantes teach basic concepts!
Not just for language arts, Diamantes can cross the curriculum:
Seven-line poems that provide grammar instruction and demonstrate parts of speech
Diamantes can be written to illustrate math, science, and social studies concepts
An engaging style of non-rhyming poetry that helps students make connections between topics
Students review nouns, adjectives, verbs, gerunds, synonyms, and antonyms
Writing Diamantes can be a class project with a central theme: peace, friendship, seasons, heroes, historical times, etc.
Diamantes are great for presentations; bulletin boards, books -- even a class quilt can be filled with original Diamantes!
Diamantes are seven-line poems, identifying structure and specific parts of speech needed to complete each line. The lines are centered on a page, with the resulting poem making the shape of a diamond. Line one and seven list the one-word subjects (synonyms or antonyms) of the poem, line two lists two adjectives describing line one, line three lists three verbs ending with 'ing' that explain action associated with the subject, line four makes a transition from describing line one to describing line seven, line five lists three verbs ending with 'ing' related to the subject in line seven, line six lists two adjectives describing line seven. A cool interactive tool to produce Diamante poems can be found at http://www.readwritethink.org/materials/diamante/
SEASONS
Winter,
Somber, Chilly,
Sleeping, Waiting, Eating,
It seems to never end and then Earth awakes -
Growing, Living, Breathing
Green, Alive,
Spring
TOLERANCE
Prejudice,
Small-minded, Hateful,
Disliking, Ignoring, Hurting
Ignorant, Resentful, Open-hearted, Worldly
Learning, Inviting, Loving,
Brilliant, Moral
Acceptance
SHAPES
Square,
Measured, Symmetrical
Exacting, Meeting, Confining,
Crates, Borders, Halos, Planets,
Encircling, Continuous, Flowing
Round, Smooth
Circle
---