From

Summer Nature Activity: Refract a Rainbow
Create colors with sunlight.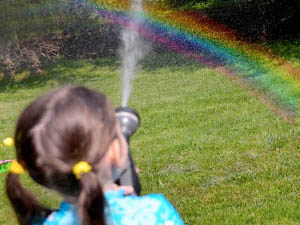 Materials
Prism or crystal
Garden hose with a spray nozzle
Waterproof smocks
During Instruction
---
Set Up
Hang the crystal or prism outside where it's in bright sunlight. If possible, place it in front of a light-colored surface, such as a white wall.
---
Lesson Directions
Step 1: On a bright, sunny day, take students outdoors, where they'll discover a wonderful surprise — the prism or crystal that you've hung up to catch the sunlight. Talk about the rainbow of colors made by the prism. What colors do they see? Have students ever seen a rainbow in the sky?
Step 2: Take down the prism and let students hold it. What happens when the sun catches it from behind? What happens when they walk with it?
Step 3: Have students carry the prism to a shady place. Does the rainbow disappear? Explain how the prism bends the sunlight to create color.
Step 4: Invite students to become rainbow makers. Have one student put on a smock and give him the prism. Turn on the hose so that it makes a misty spray of water. Note: Someone may need to hold the hose in place.
Step 5: Have the other students stand facing the water with their backs to the sun. What happens when the smocked student holds the prism in the water?
Step 6: Explain that sunlight actually contains all of these beautiful colors, even though we do not see them. When the sunlight passes through the water, the colors separate and we see a rainbow.
Step 7: Let everyone have a chance to hold the prism. The other students can put on smocks and walk through the rainbow.
---
Supporting All Learners
For Younger Students
Provide markers or paint and large sheets of white construction paper that children can use to create their own rainbows.
For Older Students
If possible, provide prisms of different shapes and sizes that children can use to further their rainbow explorations.
---
Lesson Extensions
Blow Bubbles!
Make a bubble solution with 1/4 cup of liquid soap, 1/4 cup of glycerin, and 2 cups of water. Give students straws or bubble pipes and let them blow bubbles. When students blow bubbles in the sunlight, the sun's reflection will create a rainbow of colors!
Related Books
Duckie's Rainbow by Frances Barry
A Rainbow All Around Me by Sandra L. Pinkney
What Makes a Rainbow? by Betty Ann Schwartz

---
Appears in This Collection