StudyJams! Fractions Teaching Guide
Quick links to lesson materials:
Preinstructional Planning
Objectives
Students will:
Recognize fractions as part of a whole and identify the numerator and denominator within this context
Compare fractions represented by drawings to show equivalency
Add and subtract simple fractions
---
Lesson Resources
Materials
Eating Fractions by Bruce McMillan
1 bag of jellybeans
Computer
TV/projector screen
Set Up and Prepare
---
During Instruction
Directions
Introduce the concept of fractions with Eating Fractions . (Any introductory book about fractions may be used.)
Reinforce the concept that the denominator is the total number of equal parts.
Reinforce the concept that the numerator is part of the whole group.
Spill out some jellybeans (no more than 20) onto a desk at the front of the room.
Ask a student to come up and count the total number of jellybeans. Write this number on the board and explain that it will become the denominator because it is the "whole."
Create a chart on the board listing the various colors. These will become the numerator values because they are the parts of the "whole."
Ask another student to count the total number of (any color) jellybeans out of the total. Write that number on the chart next to that color.
Continue counting the number of same-colored jellybeans until all the colors have been counted and the chart is completely filled in.
Show students how fractions can be created from this chart. Create fractions for all the colors.
Add all the numerators together to show that all the parts add up to the whole.
Split the class into groups of 3-4 students each.
Pass out a handful of jelly beans to each table group.
Students identify the fractions for each color. Record results in a chart.
Show StudyJams! quiz questions (find these by clicking the green quiz button on the student activity page). Students will work in groups to answer questions together.
Supporting All Learners
Use as many real world connections as possible. The book, video, and food example address needs of different learners. Working in cooperative groups helps reinforce to the concept of fractions. Advanced learners can record equivalent fractions in charts.
Assignments
Students complete group chart.
Students complete group assessment.
Evaluation
Was there enough time provided to complete entire lesson?
Did students understand the difference between numerators and denominators?
Did students understand the concept of fractions as showing parts of a whole?
---
Post Instructional
Lesson Assessment
Students complete video assessment in groups.
Use chart as an assessment tool to see if students understand that fractions are part of a whole.
---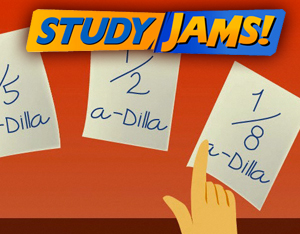 A fun activity that helps reinforce key concepts about numerators and denominators, and keeps students engaged in the learning process.
Appears in This Collection