Inside the Fish Bowl: Observing Live Goldfish in the Classroom
Quick links to lesson materials:
Lesson Resources
Materials
Clear plastic or glass quart-size containers, one per group
Live goldfish, 1-2 per group
Elodea plants, 1-2 per group
Something Fishy Journal Page (PDF), one copy per student
Blank writing paper, one sheet per student
Pencils or pens
Markers, colored pencils, or crayons
Whiteboard and markers or chalkboard and chalk
Nonfiction books about goldfish for student research

Set-Up and Prepare
Obtain the fish and plants from a pet store. The day before you plan to do this activity, fill containers with tap water and let stand for 24 hours.
Introduce fish and plants into the containers.
---
During Instruction

Directions
Step 1: Split the class into groups and have them brainstorm and record questions they have about goldfish.
Step 2: Have students draw from memory what a goldfish looks like and make notes about how it survives in water.
Step 3: Hold a class discussion to answer some of the questions. Those that can't be answered easily should be recorded for further exploration. Encourage students to try to answer their own questions using the nonfiction books about goldfish.
Step 4: Give each group a fish bowl to observe.
Step 5: Draw a large outline of a goldfish on the whiteboard or chalkboard. Have student volunteers add different parts of the fish (eyes, fins, gills, mouth) on this outline. Ask other students to label the parts.
Step 6: Hand out the copy of the Something Fishy Journal Page (PDF) to each student and have observe their fish, draw a picture of it, label any parts they can identify, and answer the following questions:
Look at your fish's eyes. How are they adapted for seeing underwater?
Look at your fish's mouth. What happens when it opens underwater?
Look at the fins. How do they help the fish live underwater?
Find the fish's gills. The gills help the fish breathe by taking oxygen out of the water. What do you have that helps you breathe instead of gills?
Can your fish hear if you make a noise? Can it see you? How could you find out?

Critical Thinking Questions
Ask students to look at the drawing of a goldfish which they made from memory. How is it different from the drawing made from observation?
Ask students: What are some important ways a goldfish is adapted for life underwater? If you had to live underwater, what adaptations would you need?

Literature Connection
Children will enjoy making their own fish pictures after reading The Rainbow Fish by Marcus Pfister. They can decorate them with glitter to make them sparkle as in the book.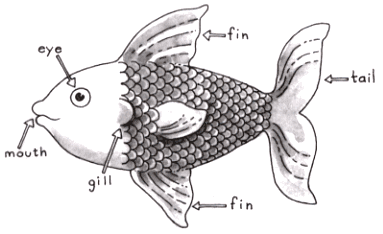 Source: Splish-Splash Science
---