Snapshot: Independent Reading in my Classroom for Grades 3-5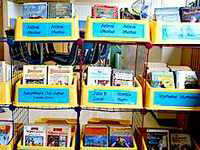 Tips for Independent Reading
Choice Spots – Set up your room with more "choice spots" so students are to less likely to want the same spot. Pillows and throw blankets provide comfortable, portable reading spots that add a touch of home to your classroom.
Good Books – Organize your classroom library so students have access to intriguing books at their level; they'll be more engaged in their reading. Include a large collection of non-fiction texts.

An independent reading bookshelf

Label Books – Put the guided reading level and the category on the back of the books in your collection. Use the guided reading level for finding that "just right" book and the category to help them replace the book in the correct section of your classroom library (for example: on the back of Hatchet by Gary Paulsen, it reads "R: Survival and Adventure." R is the Guided Reading Level and Survival and Adventure is a category of books from our classroom library.)

Contents of an independent reading bookshelf

Routines And Guidance – Spend time setting up routines and teaching mini-lesson on book selection.

Eye-catching Ask Me Hats

"Ask Me" Helpers – Assign an "Ask Me" person of the day, or the go-to student for independent reading. When students have a question and the teacher is otherwise engaged, the "Ask Me" person provides the answers. If the "Ask Me" person doesn't know the answer, they are allowed to interrupt the teacher.

Adams helps a classmate with his work.

Supplies – Each student has an independent reading bookshelf: a magazine box to store the items that students need during our Literacy Workshop:

A notebook for word work, mini-lessons, and responses to literature
A notebook for letters to and from the teacher in response to independent reading text
Guided Reading Book (instructional level text)
Independent Reading Book (independent level text)
Bookmark
Pencil
Post-it notes (optional)

Lost in our books!
---