Reading Research!
Students build their reading and research skills while learning about animal survival in winter.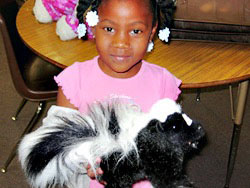 Objectives
Students will:
Use pictures to understand information presented in non-fiction texts.
Write a report on animals in winter.
Become familiar with the words migrate, hibernate, dormant, and adapt.
---
Lesson Resources
Materials
A selection of early reader non-fiction books that focus on animals in winter such as Owls, Bats, Wolves; From Tadpole to Frog; Splash: A Book About Whales and Dolphins; etc. When selecting books keep in mind that many of your students will be getting their information from the pictures in the book. If the print seems like too much, check to see if they will get enough information from the pictures alone.
Writing paper
Pencils
Read-aloud books that focus on hibernation, migration, adaptation and dormancy. I use Time to Sleep; How Turtle Flew South For The Winter; and Summer Coat, Winter Coat. Snow Rabbit, Spring Rabbit: A Book of Changing Seasons is another good title for this lesson.
Chart paper and markers
Research folders, one for each student. If your students do not already have research folders, create one for each student, labeled with their names. They could be a folded 11- by 14-inch sheets of construction paper or simple office folders.
Set Up and Prepare
Collect non-fiction books and place in baskets at each table.
Collect non-fiction read-aloud books and set aside for your read-aloud times.
Collect research folders and put paper in each folder.
---
During Instruction
Directions
With this lesson I am focusing on reading skills, research skills and the science concepts behind animal survival in winter. I will be teaching a research/reading skill and a science idea each day that will build on the day before.
Day 1
Step 1: Begin with the students at the rug. Explain that since we have been discussing winter, we will continue this discussion by talking about what animals do in winter. Each of them will choose an animal to research. Today they will go through books to choose their animal and record their choice.
Step 2: Model looking through a basket of books for an animal book that looks interesting. Focus on the point that they have to choose an animal that there is a book about. This may seem obvious, but I want to see if my students know how to choose books and how they get information from them. Then record your choice on the chart paper. Draw a sketch of the skunk and show them how to find the word skunk on the book (SSS-Skunk. What sound is at the beginning of that word? S? Oh! So, this must say skunk. I will write that on my paper.)
Step 3: Send students to their tables to browse through the book baskets, choose a book and record their choice on their paper. Then they need to put both the paper and the book in their research folders. This should only take 10-15 minutes.
Step 4: Bring students back to the rug and show them Time To Sleep by Denise Fleming. Read the book and talk about hibernation. On another piece of chart paper write "hibernation" and draw a symbol and write some words to remind students about hibernation.
Day 2
Step 1: Remind the students about the concept of hibernation that you discussed the day before. Tell them that some animals hibernate in the winter, but not all do. Read How Turtle Flew South For the Winter by Avelyn Davidson and discuss migration. Add "migration" to the chart and draw a symbol and write some words to remind them about migration.
Step 2: Tell the students that now they will go back to their reading folders and look to see what their animal does in the winter. Tell them some animals hibernate, some animals migrate, and some animals don't do either. They need to find out what their animal does!
Step 3: Model getting ideas from the book. Think out loud so children can get an idea of what to do. "OK, I am trying to find out what skunks do in the winter. Will this picture help me? Let's see. There is snow on the ground. That must mean it is winter in this picture. What are the skunks doing? They are all close together keeping warm! I can add to the picture I drew yesterday by adding some more skunks huddled together and putting snow on the ground!" Then draw, or write notes about what you found on your paper.
Step 4: Send students to the table to look through their books for what their animal does in the winter. This will be hard for some students, depending on what books they have. When a student finds a good picture, stop and show the whole class. "Rashid found a picture of a rabbit changing colors! He will probably try to draw that on his paper! Shequana found a picture of a bear sleeping! She will probably draw that on her paper." Again, they will only need 10-15 minutes with this.
Step 5: Choose two students that were successful and have them share their findings with the class. The more examples the students have in recording information from books, the better. If they did not understand the first day they will have other opportunities to try again.
Day 3
Step 1: Review the concepts of hibernation and migration. Read Summer Coat, Winter Coat by Doe Boyle or Snow Rabbit, Spring Rabbit: A Book of Changing Seasons by Il Sung Na. Talk about adaptation and add that to the growing chart of animal behavior in winter.
Step 2: Model adding words to the page that you started yesterday (either labeling or writing sentences). The idea is that you are working on one piece over several days, as they are. Show them how to use the sounds they know to add words to their work. They can also use their book as a resource for finding words. They should not be copying sentences from the book, but finding a word or two to use. They need to be able to read what they wrote.
Step 3: As the students work, circle the room to see how they are doing. You will probably need to guide them in finding out information from their books. For those that have already written what they can about their animal in winter, have them think about whether their animal hibernates, migrates, or adapts and write about that.
Step 4: Bring students back to the rug and choose a few students to share what they did with their writing.
Day 4
Step 1: Review the concepts on the chart and read From Tadpole to Frog by Kathleen Weidner. Add dormancy to the list.
Step 2: Model thinking through the list of winter behaviors and trying to apply one to your animal. Write about the behavior of your animal on your paper.
Step 3: Send the students to their tables to write about their animal's winter behavior. Circle the room and support students in this process.
Day 5
Step 1: Today the students will share all the work that they did this week and what they found out about their animal and what it does in the winter. You can make a chart and place the students' animals in one or more of the four categories: "During winter, my animal: is dormant, hibernates, migrates, or adapts."
Supporting All Learners
As you circle the room each day you can cater your conference to meet the needs of each individual student. For students that struggle with reading and writing, have them focus on the pictures and draw their scientific findings. For students that excel in reading and writing, have them write more and get more information from the texts. You may want to have some students write about and compare several animals.
Lesson Extensions
If this lesson is done later in the year, it could be extended to a chapter book about the animal they are researching. This could include an information web, table of contents, an about the author page, a diagram, etc. At the end of this unit on winter, you might want to save these reports for a "Winter Zoo." The students could make a three dimensional representation of their chosen animal and act as zoologists to a touring group of students.
Home Connection
Students could look online with their parents to try to find more about their animal, specifically how the animal survives the winter.
Assignments
Choose one animal and research how that animal responds to winter.
Evaluation
Think about:
Were my students on task?
Did they stay on topic in their writing and drawing?
Are they copying sentences or using their books as a word resource?
---
Post Instructional
Lesson Assessment
As you are traveling student to student, take notes on:
Are they getting information from the pictures?
Are they able to transfer the information to the class web?
Are they able to transfer information from the class web to their report?
---
Appears in These Collections