Poetry Immersion Centers
Begin a poetry unit by introducing students to poems in a variety of ways.
Quick links to lesson materials:
Objectives
Students will:
Become immersed in the genre of poetry
Listen to the sound of poems being read aloud
Visualize individual poems
Notice and use beautiful language in poems
Observe and apply line breaks in poetry
Begin to write two specific types of poems
---
Lesson Resources
Materials
Poetry Centers Reproducible (PDF), one for each student
A wide variety of poetry books (anthologies, collections, one-poem picture books)
Poetry folders, one for each student
Poetry notebooks, one for each student
Individual materials for each center (see below in directions)
Set Up and Prepare
Gather tons of poetry books from your own library or school library. Try to make them diverse in reading level and writing style. There are anthologies by one author, collections on a topic from multiple authors, and even picture books that are one long poem. The more they are exposed to, the more they will learn.
Photocopy the Poetry Centers Reproducible (PDF) for each student. Prepare a folder and notebook for each student as well. This is where they will keep all their center observations.
Set up individual centers. In the directions below, you'll find the material list for each center. This center set up takes some time, but once it is done, you can use it year after year.
---
During Instruction
Directions
Step 1: Gather the students on the carpet or in a group area. Ask them what they think poetry is. How can you describe poetry? Often I introduce the poem "How To Eat a Poem" by Eve Merriam. This poem is a fun way to begin a discussion about how that poetry is different for everyone and, because it is such a big category, isn't really a set genre with rules to follow.
Step 2: Introduce the materials to the class. Hand out their folders and Poetry Center Reproducibles (PDF). This is where they will keep their observations and any materials they gather from the centers. Explain that every day they are going to be circulating around the room to different centers. These poetry centers are going to allow them to practice and notice details about poetry.
Step 3: Allow the students to explore the centers. Below is a list of each center, the materials needed, and the procedure. The first day I usually open just the Visualizing, Read-to-Me, and Listening centers because they are easiest to understand, and I have previously taught how to visualize. From then on, I teach a mini-lesson each day to model the other centers and add them to the cycle one at a time. By the end of the two weeks, every student should have tried each center at least once. They can always repeat if they wish or need to. After each center they place whatever work they've done in their folders.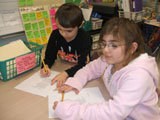 Students listen to poetry and visualize the images being described.
Visualizing Center: Type up multiple poems from poetry books on the computer. Always include the author. Print them out so that each poem is centered on one page. Photocopy them and place them in folders by title and put them in a basket. Students pull poems from the folders and read them to themselves. While they read, they visualize what is being described in the poem. When they are finished, they draw pictures based on their visualization of one of the poems.
Read-To-Me Center: Gather a variety of poetry books and place them in your classroom library. The students go to the center and choose poetry books to read to each other. This simply allows them to practice reading poetry and hearing what poetry sounds like, which is crucial since sound (rhythm, rhyme) is so important to poetry.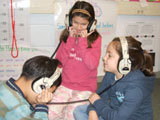 Students listen to poetry.
Listening Center: Prepare a tape of multiple poems. If you have a professional one, that's great. I just taped myself reading a bunch of poems on an audiotape and the students listen to that. (There is also a wonderful CD that features famous American poets, from Whitman to the present, reading their poetry aloud.) In this center, the students don't have the books in front of them as at a usual listening center. This is simply to listen and hear the way poems sound when being read.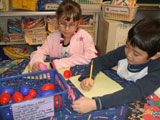 Students rewrite boring
sentences using beautiful
language instead.
Crack-Open-a-Word Center: Write some very boring sentences with no adjectives or adverbs on sentence strips. Collect a bunch of plastic eggs that are found around Easter time. In each egg place one sentence strip. The students "crack open" each egg to find the boring sentence. Then they rewrite it on a piece of paper making it much more interesting with the addition of adjectives, adverbs, metaphors, and similes, or by replacing flat language with words that evoke better images.
Example: "The girl walked through the park" becomes "The terrified girl quickly walked through the foggy park" or, "The girl strode through the park like a lion."
Beautiful Bookmark Center: Cut up cardstock or hard paper into bookmark size pieces for each student. Then have students collect some poetry books to read and notice the beautiful language. When they find a specific line they really like, they write it on their bookmark. I also teach them that they should always cite who wrote the poem.
Example: "The rain plays a little sleep-song on our roof at night" Langston Hughes
Missing Titles Center: Type up multiple poems from poetry books on the computer. Always include the author, but omit the title. Print them out, photocopy them, and place them in folders by the first line of the poem. The students choose a poem and read it. They use the clues from the poem and their schema to infer what the title of the poem is. They write the title on the page. Valerie Worth is an excellent poet to use for this center. She has many anthologies that are pretty easy to find.
Line Break Center: Type up multiple poems from poetry books. However, instead of typing them up exactly as they look, don't ever hit the return or enter button. The poem should just run across the page like prose. Print, photocopy, and place the poems in folders by their title. The students choose a poem and read it. They decide where the line breaks should be. As the reread, they place a slash where they want a line break. At the bottom of the page, they rewrite the poem the way they think it should look. This allows them to hear and feel the poem in a very individual way. It is really interesting to see what they come up with. Later, you can pass out photocopies of the real poem, with the correct line breaks. Discuss the differences in mood and meaning produced by the differences in line breaks, contrasting the students' guesses with the real poem.
List Poem Center: Students can begin to write poetry with the next two centers and therefore these will need much more modeling than the previous centers. The students choose an object in the room. You may want to leave a few objects at a table for them to choose from at first. The object is the title. The poem is a simple list of words (adjectives, adverbs, nouns, and verbs all allowed) that describe or evoke the object.
Example: Sun
Bright
Glowing
Powerful
Warm
Heat
Light
Window Box Center: In this center I place a big box on one of my windows with electrical tape (it comes right off). The students look out the window and find one specific thing to look at. The object each child chooses is the title of his or her poem. They then write a poem about that object. They can write a list poem or just try their own style.
Step 4: After about three days, I introduce the poetry notebook. This is a place for them to collect their favorite poems. They can glue poems from centers, or copy them into their notebook by hand. Be sure to inform them to always include the poet's name. This is also a place you may want them to write the poems they write in centers or later when they are exclusively writing.
Step 5: After a couple weeks of immersion, I feel the students have dissected and ingested what poetry is. They know it doesn't always rhyme; it doesn't have to take a specific shape; it doesn't always sound a certain way; it is whatever the poet wants it to be. Therefore, when they begin to write their own poems, I don't teach them specific styles or shapes to poems. I let them write whatever they want. I feel this is more developmentally appropriate for second graders.
Home Connection
Whenever I start a new writing unit, I ask the students to bring in books of the genre from home. The students can collect poetry books from home and add them to the class library. Also, as the students finish the whole writing unit, they may make their own anthologies of three or four poems they wrote. This is a great gift for Mother's Day, or just to bring home.
Assignments
Completion of Poetry Centers
Adding poems and trying poetry in their notebooks
Evaluation
What went well?
What didn't?
Did the activities help them grow as learners?
Did your discussions on poetry grow throughout the unit?
Were the centers managed well, or would you make some changes?
Do you need to make a note to gather more or fewer poetry books for your classroom?
---
Post Instructional
Lesson Assessment
Ask and monitor for understanding during group discussions. Monitor the ability of each child as the students work on the poetry centers. In general, my assessments for poetry are very open. This unit is about exploring and trying new things, not necessarily about mastering a concept.
---