Money, Money, Money!
In this lesson, students practice making correct change to prepare them for jobs that require handling money.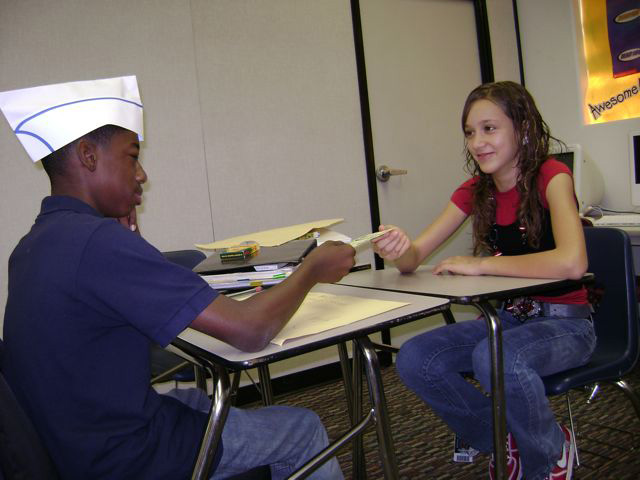 Objectives
Students will:
Practice accepting money and giving correct change to their partner
Practice adding up items ordered
---
Lesson Resources
Materials
Paper and pencils
Play money, enough bills and coins for each student pair to count out accurate change when paying with a $20 bill
Pencils
Counting Money Worksheet (PDF), one per student
Optional: Calculators
Optional: Menus from local restaurants (for the Lesson Extension Activity), at least one per student pair
---
During Instruction
Directions
Step 1: Write a problem on the board.
Example: $20.00 - $12.32= ______.
Step 2: Ask students to copy this problem onto a piece of paper and to raise their hand when they have the correct answer. ($7.68)
Step 3: Have a student come to the front of the class and hand them a $20 play bill. Show them how you would give back the correct change by either counting out the $7.68 or by counting up from the purchase price: start with $12.32 and count out the pennies up to $12.35, the rest of the change to $13, 2 ones to make it $15, and then a $5 bill to make it $20.
Step 4: Have students pair up. Give each pair plenty of play money.
Step 5: Instruct the pairs to count back a new amount, for example $8.21, and have them practice giving back the correct change.
Step 6: Once students have mastered $8.21, have students take turns making up new amounts. One should should say the amount and one can count back the change, then the partners should switch roles.
Step 7: Distribute the Counting Money Worksheet (PDF) to each student and have them complete it. If time does not allow, assign it as homework.
Supporting All Learners
Walk around the room and observe the students, offering help when needed. If you discover that both partners in a group are having difficulty, pair each of them up with a different partner that understands the concept.
Observe students who need extra help and provide support as needed. Encourage students to use their calculators to check their work. You could also work with students in a small group while others are working independently.
Lesson Extension
Have the students choose the items they want to purchase from a menu.
Ask them to add up the total cost of the items and then pay for it with their play money.
The other partner has to give back the correct change.
Home Connection
Have students work on their Culminating Activity research projects.
Assignments
You may want to assign the Counting Money Worksheet (PDF) for homework.
---
Post Instructional
Lesson Assessment
Did students have any problems giving correct change?
Were students able to work effectively in pairs?
Evaluation
Do you need to work with any of the students?
Did the students enjoy this activity?
---