Martin Luther King Jr. Interactive Timeline
After learning about Dr. Martin Luther King Jr., students work together to create a human timeline of events in his life.
Quick links to lesson materials:
To help my students learn more about this great African American leader, I do the following activity with my class.
I start by reading aloud A Picture Book of Martin Luther King Jr. by David A. Adler. I ask students to pay close attention to the main events because they will be creating a timeline following the reading. After I finish the book, I have students orally retell the story with their reading partner to help them remember the main parts of Martin Luther King Jr.'s life.
Following the read-aloud, I pass out color copies of the pages from the book to each student. (I use a scanner to scan the pictures and print them out, but you could just as easily copy the pictures using a copy machine.) I ask students to look closely at their picture and read the text that goes along with the illustration. We then start creating our human timeline. I ask my students "Who thinks they have the first event?" The person with the first event comes to the front of the classroom with his or her picture to represent the first event on our timeline of Martin Luther King Jr.'s life. This continues with students coming to the front of the room to take their place on the timeline at the appropriate time. (See the picture of the human timeline below.)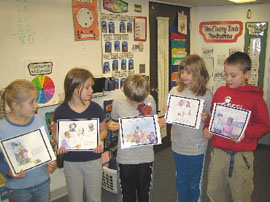 After we have created our timeline, we then go back through the story to make sure our timeline is accurate. Sometimes students need to change places if they realize they are out of order.
Activity Extension
If you choose to scan the pictures, you will then have the pictures saved as files on your computer. I insert the pictures of the pages of the book into a PowerPoint show and mix up the order of the slides. Students then view the slides in the "slide sorter view" in Microsoft PowerPoint. Students use their mouse to rearrange the pictures by dragging them into the correct chronological order. You can even have students print the slides as "handouts" so that you can check their work. I usually have my students work in groups of two to complete this activity.
To take the activity a step further, you could even have your students insert their voices as sound files on each slide to create an oral retelling of MLK's life once they get the slides in the correct order.
---