Let Me Give You a Little Advice: Writing Letters to Incoming Students and Next Year's Teachers
In this end-of-year assignment, students draft letters to the students who will replace them and to their new teachers.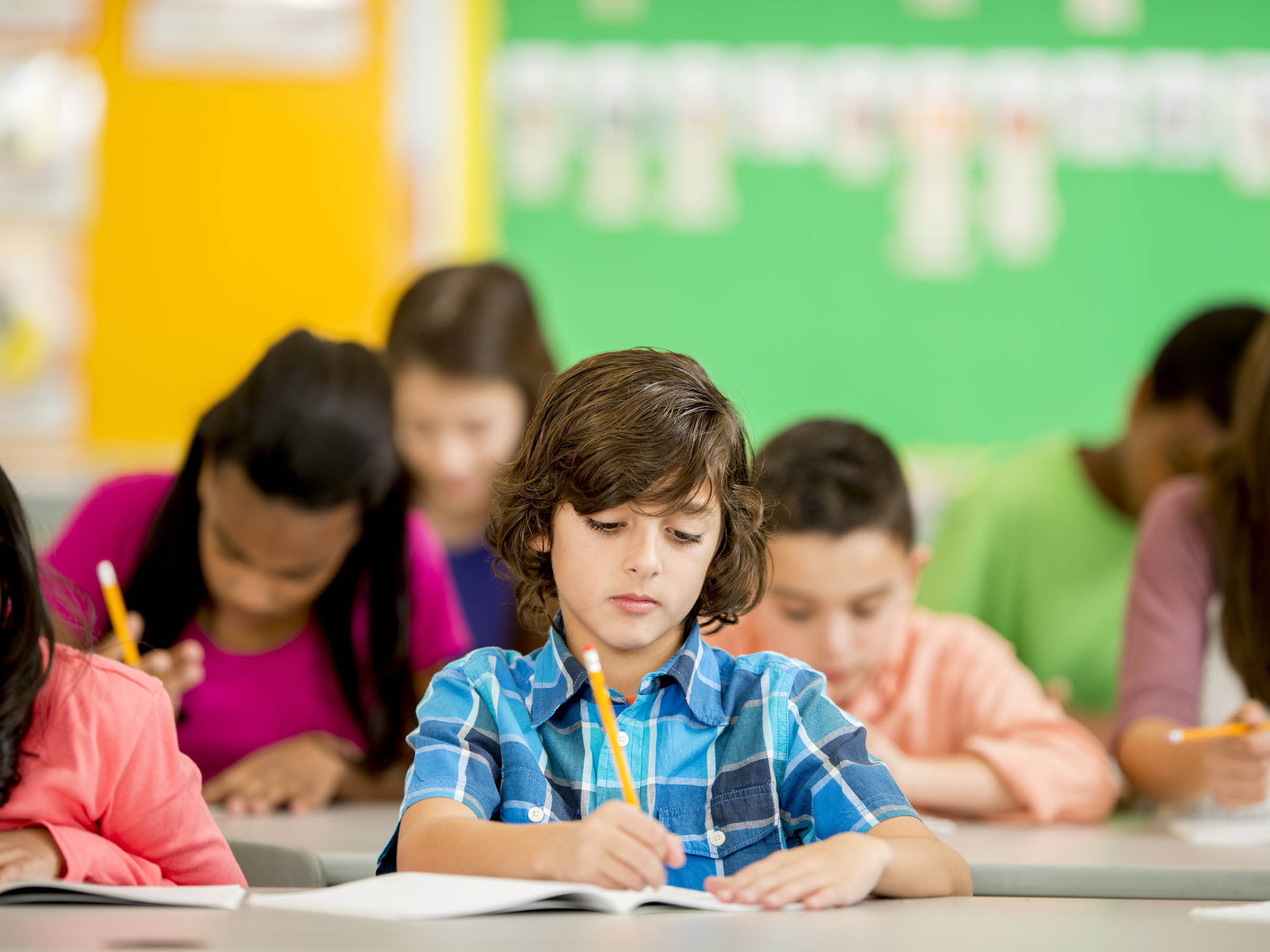 Objectives
Students will:
Use proper writing conventions to write two friendly letters
Use the steps of the writing process to draft, revise, and peer edit
Publish their letters
---
Materials
Whiteboard or chart paper and markers

Writing paper and pencils
Coloring materials such as crayons, colored pencils, and markers for publishing
Optional: Computer access for students
During Instruction
---
Students write two letters during this lesson. The first one is to the person who will occupy their desk the following year. The purpose of this letter is to give that student advice on what to expect regarding the teacher, the routines, and the subject matter studied. The second letter is to the teacher whose class they will be in the following year. This letter's purpose is for the student to introduce themselves.
---
Set Up
Plan to teach this lesson near the end of the school year, allowing enough time for all students to complete the letters with their best effort. One year, I waited until the last week to teach this lesson and, because one thing after another kept coming up, some students were rushing to finish.
Write a model of a friendly letter to share with the class. In it, introduce yourself to your students the following year.
Have paper and art materials available for student use.
Optional: If you want students to type their final letters, schedule time for students to use classroom computers or the computer lab.
---
Lesson Directions
Days 1–2
Step 1: Tell your class that you are beginning to think about next year and the students who will be in your class. Ask students if they can remember how they felt on the first day of this school year and discuss responses. Tell students you don't want any of your students next year feeling scared or nervous on their first day, and you would like their help. Explain to the class that they will be writing a letter to the student who will be sitting in their desk next year and their job is to tell that person what to expect during the school year.
Step 2: Brainstorm what students might want to tell someone who is about to spend a year in the class they are leaving. Write their suggestions on the board or chart paper. Some ideas include: memories of the class or grade, favorite projects, what they learned, advice about how to be successful in the class, things to do and not to do, and (my favorite) what the teacher is like. Remind students that they want to keep the content of their letters positive so as not to scare the new students or make someone even more anxious on their first day of school.
Step 3: Before students draft their letters, teach a mini-lesson on writing conventions used in friendly letters. Model how to properly include a heading, greeting, body, closing, and signature. You may want to draw an outline on the board or a sheet of chart paper.

Step 4: Distribute sheets of writing paper. Ask students to draft their letters.
Step 5: When students have completed their drafts, have them work in pairs or small groups to revise and edit their letters. Meet with students to review their letters before giving the go-ahead for students to publish them. Letters may be published on lined paper, stationary, or a word processing program. Students may further decorate the letters using colored pencils or crayons.
Tip: I often create my own lined stationary for publishing by using an appropriately selected backdrop with pale lines. I can easily print many sheets of the stationary I like for students to use.
Step 6: Place student letters in a large labeled envelope and store in a safe (and memorable!) location until the first day of the next school year. On the first day, place the letters on each new student's desk for them to read when they arrive on their very first day in your classroom.
Days 3–4
Step 7: Tell students that now that they have told next year's students what to expect, there is only one more person they need to tell what to expect — their next year's teacher! Explain to students that they will be writing a friendly letter introducing themselves to their teacher for next year. By doing this, their teachers can start the new school year knowing a little something about their new students. Share your letter as a model.
Step 8: Brainstorm with the class what type of information they should put in the letter. Their letters might include information about themselves, their families, their pets, their hobbies and interests, their favorite subjects, their strengths and weaknesses in school, etc. Write their suggestions on the board or chart paper.
Step 9: Distribute a sheet of paper to each student. Ask them to draft a letter to their future teacher. Remind students that although they will use the same friendly letter format as their first letter, the tone and content will be more formal because the audience has now changed from a peer to an adult.
Step 10: After students complete their drafts, have them work in pairs or small groups again to revise and edit their letters. Meet with students to look over their letters before giving the go-ahead for students to publish them. Letters may be published on lined paper, stationary, or a word processing program.
Step 11: Place letters in a safe place and distribute them to the teachers of your current students when school begins again in the fall.
---
Supporting All Learners
Students with limited English proficiency, along with less mature writers, may need to have the lessons adapted. Outline the expectations for each student who may not be able to complete an entire letter successfully. You could use a clozed letter where students could fill in the blanks.
---
Lesson Extensions
In the past, I have also put the letters on my Welcome bulletin board out in the hall before school starts. One of my favorite boards I use to start the new school year with is my "Happy New Year" board. I post the letters to be enjoyed not only by the students for whom they were written, but also for the students who wrote them. Next to the letters, I have the new students write their "New Year Resolutions," a list of academic and social goals they would like to accomplish by the end of the year.
Instead of a letter, have students work together to compile a bound handbook of tips and suggestions that can be read and used by the class next year.
Students could create a video or PowerPoint presentation that describes what "A Day in the Life" is like in your classroom.
Have students write and perform a newscast telling next year's class all the latest news about what they can expect in your room. Record the presentation and show it to your new class in the fall.
---
Home Connections
Inform students' families in a note or through your class newsletter whenever you begin a new unit in language arts. If you'd like, ask parents to help proofread student papers before publishing, either in the classroom or at home.
---
Assignments
Write a letter to a future member of the class.
Write a letter to next year's teacher.
Post Instructional
---
Evaluation
Did students understand the purpose of each letter?
Did you provide adequate time for each step?
Did you brainstorm enough ideas together?
Did you model enough for students to complete the assignment independently?
Were students of all abilities able to complete this lesson successfully?
What would you do differently next time to improve this lesson?
---
Lesson Assessment
Were the students able to understand the purpose of the letter?
Did students use all parts of a friendly letter properly?
Were the steps of the writing process followed?
How well did students work together on revising and editing? Were they offering constructive suggestions?
Was the finished product quality work?
---
Appears in This Collection