Inventing Insects: A Creative Lesson Plan
In this crafty lesson plan, students make their own insects to learn about the physical characteristics and anatomy of insects.
Quick links to lesson materials:
Objectives
Students will:
Examine the physical characteristics of insects: six legs, three body parts, two wings (for some), two eyes, two antennae, skeleton on the outside
Contrast insects and spiders
Compare how different insects move: jump, fly, crawl, or swim
---
Materials
Enough insect photographs for each student, plus a couple of spider pictures
Magnifying glasses, one for each student
Various live (or dead) insects from pet stores or educational supply stores
Paper or cardboard egg cartons, enough to cut three cups for each student
Pipe cleaners, 3 of one color and 1 of another color for each student
Cardstock, enough to cut 2- by 2-inch pieces for each student
Foil wrap, enough to cut 6- by 6-inch pieces for each student
Colorful markers
Glue
Clear tape
Hole punch
Multiple colors of tempera paint
Paint brushes
Scissors
Paper plates, one for each student
Chart paper
Four hula hoops or rings made of loose string
Four blank word cards
Books about insects and bugs for a read aloud (see the Teaching About Bugs, Insects, and Spiders Book List for suggestions)

During Instruction
---
Set Up
Preview the Going Bug-gy! Facts and Fun About Insects and Bugs student activity for insect information.
Cut paper egg cartons into segments of three cups in a row. You will need three cups per student.
Write or label student names on the inside of the cut egg cartons.
Cut a 2- by 2-inch piece of cardstock for each student.
Cut a 6- by 6-inch piece of foil for each student.
Print out pictures of insects and a few spiders from the web, or find photos in magazines.
Cut out the pictures and hide them throughout the classroom.
For Day 2, cover the desks with newspapers and set out various colors of paint with paintbrushes.
---
Lesson Directions
Day 1
Step 1: Before the students come in, hide pictures (enough for each student to find one) of insects throughout the room. Set out a couple pictures of spiders as well. If you can, suspend flying insects from the ceiling on strings.
Step 2: Explain to students that they will be studying insects, bugs, and spiders, and that bugs are insects with mouthparts that pierce and suck.
Step 3: If you have a live (or dead) insect, gather the students in a circle on the carpet. Distribute the magnifying glasses. Pass around the insect (in a jar or small plastic terrarium) for the students to examine.
Step 4: Ask students to share what they know about insects. Tell them that all around the room are pictures of different kinds of insects. Invite them to find one picture and bring it back to the carpet.
Step 5: When they are finished finding pictures, ask students to turn to a partner and talk about their creature. Encourage them to describe the colors and anything else they notice.
Step 6: Explain that most of them have pictures of insects, but a few have spiders. Ask if anyone knows of any differences between insects and spiders.
Step 7: Write the headings Insects and Spiders on chart paper and sketch each creature underneath the words. As you draw, explain the basic physical characteristics:
Insects
Have 3 body parts: head, thorax, and abdomen
Have 2 eyes and 2 antennas that help the insect smell, taste, and hear
Middle section (thorax) has powerful muscles that operate wings and six legs
Back section (abdomen) expands when the insect feeds
Have their skeletons on the outside.
Spiders
Only have 2 body parts: abdomen and cephalothorax (head and thorax together)
Growing from the cephalothorax are 8 legs
Have 8 eyes and 2 pedipalps — leg-like body parts that touch and taste — instead of antennae
Step 8: Ask students to look at their picture and tape it in the correct category on the chart. As they do, ask them if they know the name of the insect. If they don't, name the insects.
Day 2
Step 1: If you have another live (or dead) insect to share, pass it around for students to examine with their magnifying glasses. Ask them to recall the different colors, spots, and stripes they may have noticed on the live insects, the pictures, or ones they've seen before. Tell students that today they are going to create their own insect.
Step 2: Distribute the three-cupped egg cartons. Ask students to think about what kind of insect they want to make. Invite them to look at the pictures on the chart. What color will they make their insects? Will they have stripes or spots? Will they have wings?
Step 3: Send students back to their seats and invite them to paint the three body parts of their insect any way they like. Leave time for paint to dry.
Step 4: As the paint dries, gather students together and ask them to share the kind of insect they're creating and what features they need to add.
Day 3
Step 1: Before students arrive, prepare each student's insect body for the next steps. Punch three holes on each side of the center egg carton cup (thorax) and two on either side of the head. Set out three pipe cleaners, a 2-inch by 2-inch piece of cardstock, and a 6- by 6-inch piece of foil on a paper plate for each student. Set out colored markers, scissors, and glue.
Step 2: Gather students together and ask them to recall the physical characteristics of insects you discussed.
Step 3: Explain that today they will be adding legs, wings, antennae, and eyes to their insects.
To add legs, thread the pipe cleaners through the holes punched in each insect's thorax. Each pipe cleaner should stick out on both sides of the egg carton cup.
To add wings, design, color, and cut the wings out of foil. Glue the wings onto the thorax.
To add antennae, thread another pipe cleaner through the head holes. The pipe cleaner should stick out on either side of the head.
Students can also draw, cut out, and glue on eyes.
Step 4: Let students create their insects. They should save gluing until they are finished with all other steps.
Step 5: Set the insects aside for the glue to dry.
Step 6: Close the lesson by sharing a book about insects. See the Teaching About Bugs, Insects, and Spiders Book List for suggestions.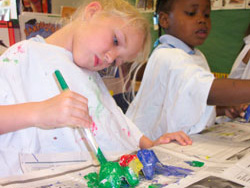 Day 4
Step 1: Ask students how people move. Accept all answers. Refer students to the pictures on the Insects and Spiders chart from Day 1. Explain that insects move in many ways.
Step 2: Write the following words on word cards with the students: fly, crawl, jump, and swim.
Step 3: Lay four hula hoops on the classroom floor (or create four rings of string) and place a word card in each.
Step 4: Ask students to take one of the insects from the chart and classify how they think that insect might move: fly, crawl, jump, or swim. Assist students where needed.
Step 5: Distribute the students' completed insects. Go outdoors and invite students to move their insect in the way they think it might move.
---
Supporting All Learners
Where appropriate, help students to categorize their insect. Assist students who might have difficulty cutting with scissors.
---
Lesson Extensions
I have students make spiders in the same way, but they use a two-cup segment from an egg carton. After painting, we punch four holes on each side of the cephalothorax. I place a piece of black construction paper in a large copy paper lid, and the students roll a marble coated with white paint across the black paper. The trail of the marble creates a web painting on which the spider is mounted.
---
Home Connections
Encourage students to search for insects in their home or outside with their family. Ask them to collect some in a plastic container to share with the class or draw a picture of it. My students bring in ladybugs, ants, pill bugs, and even cockroaches!
---
Assignments
Make a class sorting chart
Create an insect
Categorize how an insect moves
Post Instructional
---
Evaluation
Did students classify their insect?
Did students participate in discussions?
Did students include all body parts in their insects?
How did students play with their insects?
Was there enough time for students to be successful?
What would you do differently?
---
Lesson Assessment
Observe how students categorize the insect pictures.
Did students correctly create the different parts of the insect?
Did students correctly demonstrate how the insect moves?
---
Appears in This Collection