Inkheart Vocabulary Boosters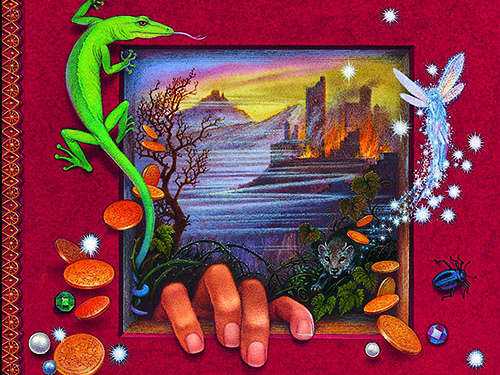 Use these 20 vocabulary words from Inkheart for your weekly list, daily word study, or spelling exercises.
1. ferocious (fE ro shEs)
adjective
fierce; savage
2. bookseller (bUk seh lEr)
noun
one who sells books as an occupation, esp. the owner of a bookstore
3. endpaper ('end pA per)
noun
a once-folded sheet of paper having one leaf pasted flat against the inside of the front or back cover of a book and the other pasted at the base to the first or last page
4. oleander (o li aen dEr)
noun
any of several poisonous evergreen shrubs of the dogbane family that bear white, pink, or red blossoms.
5. indifference (ihn dI frEns)
noun
lack of interest, esp. when interest is called for
6. grimace (gri mEs)
noun
a twisting of the face to show pain, disgust, or anger
7. sympathetic (sIm pE theh tihk)
adjective
feeling or showing understanding
8. masquerade (mae skE red)
noun
a false or pretended appearance
9. uproarious (uhp ro ri Es)
adjective
causing loud or uncontrollable laughter; hilarious
10. mockery (ma kE ri)
noun
one who is an object of ridicule
11. apprentice (E prehn this)
noun
someone who works for somebody else to learn that person's skill or trade
12. superstitious (su pEr stI shEs)
adjective
believing in or having superstitions
13. fishmonger (fish mäng-gr)
noun
chiefly British: a fish dealer
14. betray (bE tre)
verb
to be disloyal to; commit treason against
15. excruciating (ihk skru shi e tIng)
adjective
very painful; causing agony
16. bonfire (ban fair)
noun
a large fire built outside for celebration or warmth
17. hovel (huh vEl)
noun
a small, uncomfortable, dirty house or hut
18. extinguish (ihk stIng gwihsh)
verb
to put out; stop the burning of
19. emerge (ih muhrj)
verb
to rise up from or come into view
20. camouflage (kae mE flazh)
noun, verb
a way of hiding something by covering or coloring it so that it looks like its surroundings
---
Appears in This Collection