How Many Letters Are in Your Name?
Students will listen to a story and then count, compare, and contrast data to create graphs that demonstrate what they have learned about the letters in their names.
Quick links to lesson materials:
Objectives
Students will:
Listen to the selected story for pleasure, participating in Think-Pair-Share comments throughout the reading
Record information to contribute to the class graph
Use math vocabulary to ask and answer questions about the class graph
Use math vocabulary to compare and contrast information presented in the class graph
Sort names by similarities and differences such as; number of letters, syllables, beginning sounds, etc.
---
Materials
Chrysanthemum by Kevin Henkes
Poster board, chart paper, or butcher paper to create a graph display
Index cards or similar sized pieces of paper
Pencils
Tape
Crayons, markers, or colored pencils
---
Set Up
Have poster board, chart paper, or butcher paper ready to use in front of the class.
---
Lesson Directions
Step 1: Read Chrysanthemum by Kevin Henkes. Throughout the reading, have students stop and Think-Pair-Share with a partner about what is happening in the story.
Step 2: After the read aloud, lead a discussion to remind students about what makes their own names special.
Step 3: Have students recall how many letters were in Chrysanthemum's name. Ask students to see if they can count the number of letters in Chrysanthemum's name on their fingers. Note: This is an interesting formative assessment point to see which students comment that we only have 10 fingers. Some may comment that we could use our own ten plus three more fingers with a friend, or use our own ten fingers and then start again on our own fingers, etc.
Step 4: Ask students if they can count the number of letters in their own first name on their fingers. Start to ask who had 2 letters, 3 letters, 4 letters etc. Hopefully, this will be a little confusing to your students and you can stop them and say "I would really like it if we had a clear and organized way to compare all of this information. I have an idea. What if you each took and index card and went back to your desk and wrote your first name on it? And then you could bring it back to the community area and we could glue them all on a large piece of paper so we could see them all at once?"
Step 5: Send students back to their desks to write their names. Have them use crayons, markers, or colored pencils for this activity so everyone can see their names clearly. I also tell students that they should decorate their name with stars, curlicues, etc. to make it "fancy."
Step 6: Instruct students to write the number of letters in their name directly under their name.
Step 7: Bring students back to the community area, pull out a large poster board, and tape each student's name to it haphazardly. Guide students' attention to their names and express confusion at still not being able to see all of this information clearly.
Step 8: Ask how else we could arrange the cards so we could see very clearly and quickly how many letters each student has in their name. Guide students to discover that grouping the names with the same number of letters would be the clearest way to compare the information presented. Commend students on their efforts, and tell them "What we are beginning to create is called a graph. Graphs are a quick and easy way to get information from information, or data, that was collected."
Step 9: Guide students through the steps of creating a graph. Use a new poster board to write a title for your graph: How Many Letters Are in Your Name? Explain that a title is always needed so the person reading the graph will know what it is about.
Step 10: Guide students to understand that we need to list all of the numbers, in order, on the graph, either across the bottom or down the side. Make sure to show them how you determined the first number (1, because every name has at least one letter) and the last number (the number of letters in the longest name, or beyond that number).
Step 11: Have students affix each of their name cards in the appropriate spots. You can view my class graph below as an example, but make your graph your own!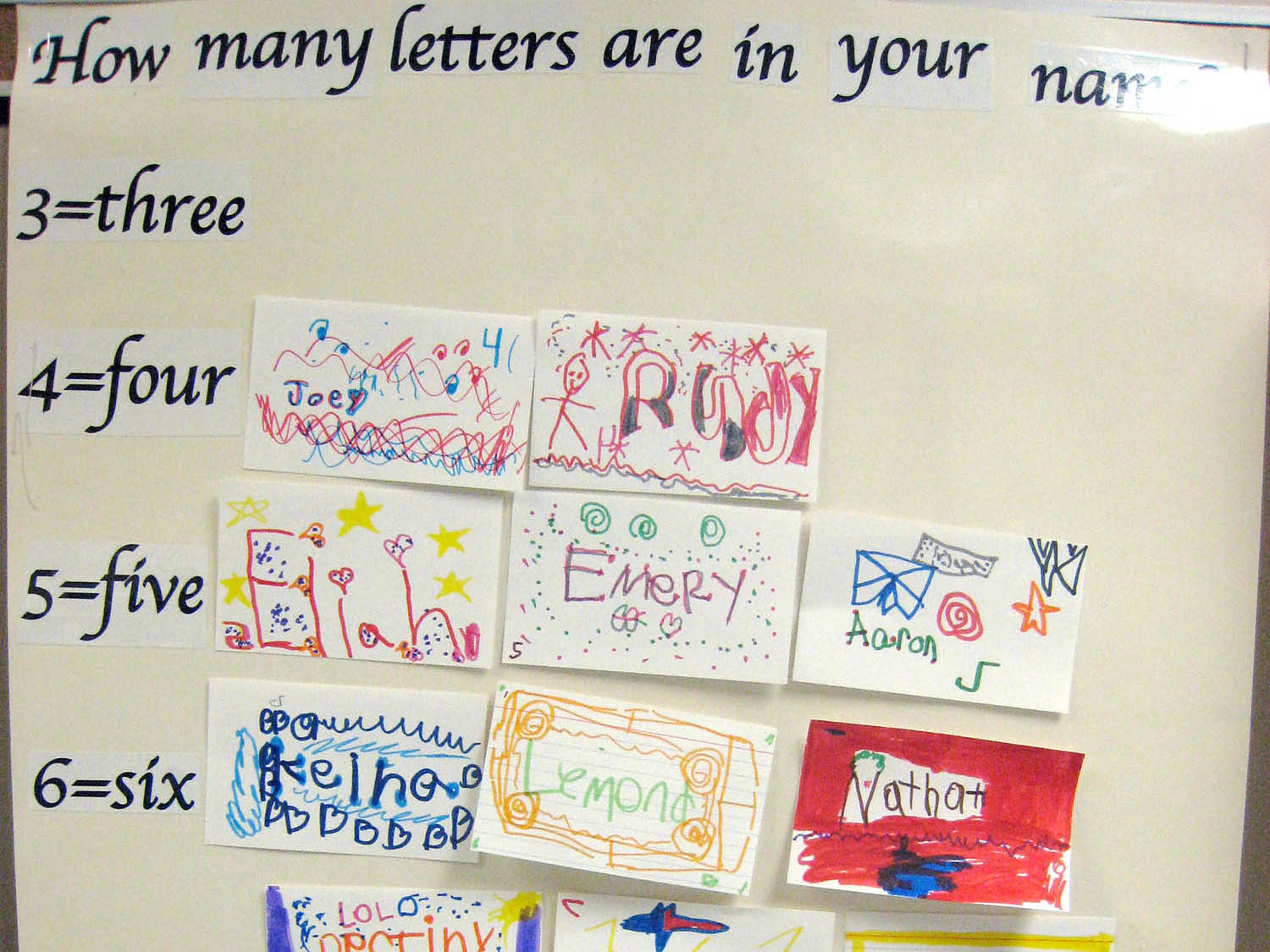 Step 12: Ask the following questions (or adapt them for your class) to compare information shown on the graph:
How many student names have 5 letters?
Which numbers have the least and most student names?
Which number(s) has no student names?
Which numbers have the same amount of student names?
How many more student names are in the 5-letters row compared to the 8-letters row?
The 6-letters row has how many more than the 2-letters row?
How many more names would we need in the 3-letters row so it had the same as the 4-letters row?
How many names do the 7-letters row and the 10-letters row have all together?
How could this graph change or not change over time?
What are you looking at on the graph to help you figure that out?
What does this graph tell us about the class?

Step 13: Finally, explain that this type of graph has a name, a bar graph, and that over the next couple of weeks, we will be creating some more class graphs so we can learn special things about each other.
Optional: Display this graphs and future graphs in the unit in the hallways to share information about the class with the whole school.
---
Supporting All Learners
All students are able to participate in creating this class graph by writing their name, contributing to the discussion of how to organize the graph, and helping to decide on the graph title, as well as sounding it out as it is written. Each student also has a partner to think-pair-share with during the book reading, which is the focusing event for this lesson.
Think-Pair-Share is a strategy that asks students to:
Think individually about a question or problem
Pair with a partner
Share their thoughts with that partner and then the class as a whole.

During think-pair-share, each student has time to share and to listen to each other's comments and ideas.
---
Lesson Extensions
Have students sort name cards by a given category. For more of a challenge, have several cards that are already sorted and ask students to guess how they are sorted. You can also place flashcards in a pocket chart or on the floor and let students figure out different ways to sort them.
Sorting Ideas: initial sound, ending sound, vowel sounds, number of vowels, long and short vowels, vowel patterns, number of letters, letter that occurs anywhere, blends, digraphs, or letter that falls at the beginning, middle, or end of a word.
---
Home Connections
Send several index cards and a poster board or piece of chart paper home with each student so they can practice the same activity at home with their family members' names. I encourage students to use extended family members' names and the names of their pets so they have enough names to work with! This is such a valid way for students to review alphabet and blend sounds with words that are meaningful to them. It also allows for a homework assignment that connects the student's own life to what was being learned in the classroom.
---
Assignments
Students are asked to bring the name graph they created with their family members' names to share with the class.
---
Evaluation
This lesson is an introduction to a longer unit on graphing and a discovery of our similarities and differences. This first lesson is laying the groundwork for future lessons that will incorporate the new mathematical language students learned when constructing and reading graphs.
---
Lesson Assessment
This is a wonderful opportunity to engage your students in conversation about their mathematical ideas and challenge their understanding of the relevant mathematical vocabulary. Take time to observe their reasoning and their mathematical thinking. Ask them why they think what they do and you will be able to assess their growth and understanding of the ideas being presented.
---