Guided Writing With Reindeer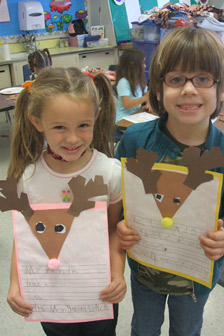 Let reindeers' noses guide your students into writing a complete sentence. This crafty writing activity is fun and simple enough for young and early writers.
Materials needed:
Different colored pom poms in a plastic baggie

writing paper

pencils

Brown triangle 5"/5"/5" one per student

glue

White and black paper for the eyes

Dark brown antlers (two per student)

Various colors of construction paper 9" by 5 1/2"
Directions:
Step 1: Guided writing: Have the students write "My reindeer has a _________ nose."
Step 2: Have the students close their eyes and reach into the plastic baggie and choose a pom pom. (Say:"close your eyes and reach inside and you will get a big surprise.") That is the color of their reindeer's nose.
Step 3: The students are to write the color word on the blank line. (I have all the color words written out for the students to refer to when they are writing.)
Step 4: Pass out the brown triangles and have the students glue it to the top of their writing paper.
Step 5: Glue the pom pom to the bottom of the triangle (where the nose should go).
Step 6: Cut out eyes and glue them to the reindeer.
Step 7: Glue the already cut out antlers to the reindeer.
Step 8: Frame the back of the reindeer project with construction paper. I use the color that the nose is.
---