5 Crafty Valentine's Day Ideas
Decorate your classroom with letterboxes, valentine holders, streamers, banners, and a wall of hearts!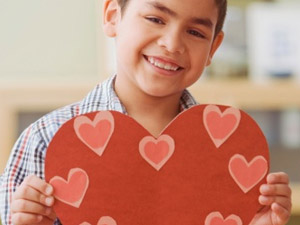 Get your students in the Valentine's Day spirit with these easy-to-make decorations and crafts.
Valentine Letterbox
Cover each side of a tissue box with colored paper, but make sure to leave an opening for the top. Decorate with valentine symbols, such as hearts and cupids, cut from paper or fabric. Add a paper doily around the top opening for an extra festive look. Cut out a hole at the top of the box so that students can use the box to store their valentines.
Valentine Holder
Cut out an animal or heart shape from heavy construction paper and decorate the shape. Leave the top open for cards and, voilà , a festive holder for valentines of all shapes and sizes.
Wall of Hearts
Heart mini-murals are a great way for students to experiment with watercolor washes. Give each student a 12- by 18-inch sheet of white construction paper. Dampen the paper and dab on dots or stripes of paint, allowing colors to run together. When dry, draw five to eight heart silhouettes on the paper with a black felt pen. Cut the hearts out and leave a small border around the black outlines. Mount them in a row on a strip of heavy tagboard or matboard. Tie the design together with a border.
Valentine With Streamers
Give children two shades of valentine-colored construction paper from which to cut out two of the same sized valentine pieces. Weave the pieces together and staple or glue them to ensure they are secure. Attach all sorts of streamers with shiny paper hearts to hang from the ends.
Valentine Banner
Start by planning out your banner on paper first before cutting it out from felt. Then, cut out paper designs and pin them on the felt as decorative patterns. Assemble the paper designs to the felt banner with any fast-drying white glue. Use a dowel or tightly rolled paper as a hanging rod. Be sure to leave enough empty space at the top of the banner for the rod pocket.
---