From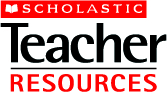 Emily's First 100 Days of School Lesson Plan
Quick links to lesson materials:
This lesson is taken from Teaching With Favorite Read-Alouds in First Grade available from Scholastic Professional Books.
"When I was little, in elementary school, math was no fun for me. It was taught by rote, and it was impossible for me to see how I would use these lessons in real life."—From "Author's Note" in Emily's First 100 Days of School
In this bright and lively book, Rosemary Wells sets out to prove that math can be fun and that math learning does translate to the real world. Emily leaves her mama's arms on the first day of school, too excited to cry, and meets her teacher,Miss Cribbage, who promises to throw a big party on the 100th day of school. As the days of school progress, Emily and her classmates meet numbers in situations they never imagined— or rather they did, but never gave a second thought to.The 76 trombones in the song and the 57 varieties on a pickle jar label help convince Emily and the other children that numbers are everywhere.
Once your students realize how meaningful the role of numbers is inour lives and how numbers sometimes appear when we least expect them, learning becomes more personal and more relevant than filling in the blanks on a worksheet. My first goal as a primary teacher at the beginning of the school year is to make learning math fun, hands-on, and meaningful. By counting buttons, candy corn, or even silver-painted popcorn chains instead of using rote pencil-and-paper counting, I also take the intimidation out of math. I introduce this approach to math in my classroom by simply stating three steps as follows:
Here's the skill we'll be learning about (counting, for example).
Here's one way this skill occurs in the real world (counting the days in school).
Here's how we'll explore it meaningfully (counting real objects).
In the mini-lesson that follows, the students and I set out to make number journals of our own and begin planning ahead for our own 100th Day of School party. In doing so, even the most "mathophobic" students agree that counting can be fun.
The day prior to the mini-lesson, we hold a math workshop where students produce large quantities of tens and ones for use throughout the school year to represent the numbers from1 to 100.To incorporate the ideas depicted in Emily's First 100 Days of School, I set up stations where students make tens by placing 10 pieces of candy corn, 10 acorns or seeds, or10 pennies into small paper ketchup cups marked TEN; attaching 10 similar-sized stickers(stars or flowers, for example) onto strips of adding machine paper; and rubber stamping pictures in rows of 10 on strips of adding machine paper. Students make ones by placing the same kinds of objects in small paper ketchup cups marked ONES.They can also cut apart the strips of stickers and rubber-stamped pictures to make ones.
Note: In this mini-lesson,the students and I explore the numbers from 1 to 20. Adapt the lesson to accommodate the needs of your students and your learning goals.You may choose to repeat it throughout the year to reinforce the understanding of new decades of numbers. It's also fun to include Emily's First 100 Days of School as part of calendar time by rereading the page that corresponds to each new day of school.
Mrs. L.: We've been keeping track of our days in school just like Emily's class does in Emily's 100 Days of School.
Kyle: Today's our fifteenth day.
Mrs. L.: That means we have eighty-five days till our Hundredth Day of School party. Listen to how Rosemary Wells describes numbers: "[Numbers] appear in our games, in our poetry, and in songs. . . . Some numbers are so much a part of our language that certain things come to mind the moment the number is mentioned;other numbers are shy and need to be brought out of their hiding places. In this book all numbers are equally important, and all are fun." Today, we're going to have some fun with numbers. First tell me about a number that immediately makes you think of something when you hear it.
Emily: When I hear "three," I think of "The Three Little Pigs."
Travis: I think of "Three Blind Mice" or "The Three Bears."
Grace: Twelve is a dozen, so I think of a dozen eggs when I see the number twelve.
Mrs. L.: Great thinking! Rosemary Wells thinks of a dozen, too. She writes that Leo and Emily picked a dozen zinnias for Mama's birthday.
Casey: I like the page with the song about ninety-nine bottles of pop on the wall.
Mrs. L.: I do, too. I think it's clever how Rosemary Wells thought of a way to celebrate all the numbers from one to one hundred. Many numbers can be celebrated in obvious ways—like the twenty-six letters in the alphabet or the fifty stars on the American flag. But for a lot of other numbers, Rosemary Wells had to be creative—like the way Mama can count fifty-six ways she loves Emily off the top of her head, how Emily can read a book with forty-seven words all by herself, and how Leo can't see any of the eighty-nine calories in Aunt Mim's tomato soup.
Greg: I remember that there are twenty-seven letters in the name of Emily's hometown. I remember because we counted the letters in our hometown, State College, and got twelve.
Mrs. L.: Exactly. Today we're going to take a closer look at what a few other numbers look like. I've copied the numbers from one to twenty on cards and placed them in this bag. I'll call you to help me pick one number at a time. We'll build that number using the tens and ones we made in our math workshop.
Joey: I counted LOTS of candy corn into counting cups.
Christy: I made a hundred out of flower sticker-tens.
Mrs. L.: These will come in handy. After we make each number with tens and ones, we'll think of the way it's used in a poem, a game or a song, as Rosemary Wells suggests. Josh, would you like to be the first one to choose a number?
Josh: Sure—it's sixteen. I'll use candy corn to build the number. Here's one ten of candy corn, with six ones. That's sixteen.
Mrs. L.: Nice work. Can you recall a song or a poem or another special way sixteenis used?
Casey: Maybe you should check the book.
Mrs. L.: Good idea! (I begin to sing the song "16 Tons.") "You load sixteen tons, what do you get?"
Daniel: I've heard that song.Grace: My sister's sixteen.
Mrs. L.: The number sixteen has special meaning for some of us. Let's try another number. Brooke, would you choose a number, please?
Brooke: It's fifteen. I'll make fifteen with the flower stamps. I'll use one ten and five ones.
Mrs. L.: Tell me something special about the number fifteen.Jeannie: It's one less than sixteen.
Katie: I think my cat is fifteen.
William: In the book, fifteen is the one about fifteen horses swimming.
Mrs. L.: The boat's motor is fifteen horsepower. So, fifteen is special, too. Let's choose one more before I give you a chance to try this on your own. Travis, would you choose a number, please?
Travis: It's nine.
Greg: My brother will be nine on his birthday.
Maddie: I have nine stuffed animals on my shelf. I counted them last night when I was trying to go to sleep.
Josh: I wish I had nine cookies to eat—I'm hungry.
Travis: I made nine with the pennies: nine ones.
Mrs. L.: Nice work. In the book, there are nine planets in our solar system. As the book shows, numbers are everywhere—and they're an important part of our world. Without them, we wouldn't know how many things we needed at the grocery store, how fast to go,how old we are, how many minutes till bedtime—
Billy: Or how many minutes till lunch.
Sara: Or days till mybirthday—mine is exactly twenty days away.
Joey: Or how many pennies are in my bank—I have at least eighty-nine, I bet.
Mrs. L.: I'd like to give you all a chance to show me how a number from one to twenty is special to you. I think we will probably agree with Rosemary Wells— numbers can be fun!
Grace: I think our Hundredth Day of School Party will be fun, too.
After the mini-lesson, I send students to their seats to work on a page for a class number journal. Using the same bag of numbers from our mini-lesson, students choose a number from 1 to 20 and write and illustrate that number on an index card.They work during free time at the math center to illustrate all the numbers from 1 to 20.When all the numbers have been completed, we display the index cards in numerical order near the calendar where we keep track of the days in school. Each day at calendar time artists take turns introducing the Number of the Day and its special significance in our world.
10 Great Ways to Celebrate the 100th Day of School
Share 100 cupcakes (donated by parents).
Gather 100 children to sing "Happy 100th Day of School" (sung to the tune of "Happy Birthday to You").
Collect and count 100 objects from inside or outside the classroom.
Write your name 100 times (or count 100 kisses like Emily).
Reread Emily's First 100 Days of School by Rosemary Wells.
Measure 100 inches (or run a 100-yard dash).
Do something for 100 seconds (like standing on one foot like Roger did in the book).
Write 100 words in book-spelling.
Work in groups to glue together 100 Popsicle sticks (or bottle caps like Lewis did inthe book).
Get together with book buddies to collectively read 100 books.
---