From

Dig Into Springtime Science
Enjoy the spring weather and take learning outdoors! These easy springtime science experiments teach children about habitats, anatomy, plant growth, and much more.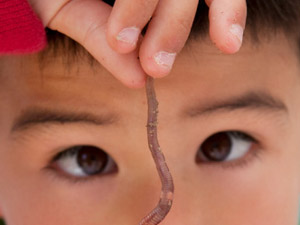 Worm Watch
What It Teaches: Habitats, anatomy, invertebrates, qualitative data — and that worms are our friends!
What You Need: Worms (from a sporting goods, pet, or bait shop), flashlights, paper towels, hole puncher, index cards
What to Do: Give small groups an index card with a hole punched in the center. Tape the index card over a flashlight, with the hole centered on the bulb, to create a "spotlight." Give each group two damp paper towels. Dim the lights and place a worm on the damp paper towels. Observe the worm for at least 30 seconds. Then ask students to shine the spotlight on the anterior (head side — recognizable by a skin flap called the prostomium) and see how it reacts to light. Turn off the flashlight and watch the worm for another 30 seconds. Then have kids shine the light on the posterior (back side) of the worm. Discuss how the worm reacted to the light on each side and graph the results as a class.
Book Connection: Diary of a Worm, by Doreen Cronin
Nature Stomp
What It Teaches: Seed dispersal, plant growth, observation skills
What You Need: Grown-up-size socks
What to Do: Head outside! Ask kids to put the large socks on over their shoes. Send small groups to different sections of a large grassy area to walk, skip, and hop around for five to ten minutes. Afterward, have them carefully remove their socks. Compare what is found on the bottoms. Look for seeds, insect bodies, soil, and forms of plant life. Collect any seeds, and allow students to observe and then draw the shapes and structures.
Book Connections: A Dandelion's Life, by John Himmelman; The Dandelion Seed, by Joseph Anthony
Spring Scavenger Hunt
What It Teaches: Feeding habits, wildlife identification, decomposition, and data collection and recording
What You Need: Apples, oranges, grapes, cucumbers, squash, carrots
What to Do: Have students wash and cut vegetables and fruits into halves. Select two distinctly different and undisturbed locations of your school grounds (such as a quiet corner of the parking lot or playground). Ask students to place a piece of each type of food on the ground at each one of the locations. Take a photo of the food as documentation. At the same time each day for two weeks, invite students to observe the food to see what animals and insects have eaten or are currently feeding on the food. Observe and record which foods the wildlife prefer. Record the information and chart it, and photograph the location every day to illustrate observable decomposition and feeding habits.
Book Connection: Henry Cole's Jack's Garden
Where Could My Butterfly Be?
What It Teaches: Camouflage, observation, adaptation
What You Need: Classifieds, colored construction paper, pencils, scissors, glue, a window
What to Do: As a class, read Where Butterflies Grow, by Joanne Ryder. Ask students to find insects in the illustrations and discuss how their camouflage protects them from prey. Next invite students to trace and cut out a few butterflies from construction paper. Then, glue them onto a page of the classifieds. Using a separate sheet of the classifieds, trace and cut out several newspaper butterflies. Glue them onto the same sheet as the colored butterflies — they will appear hidden. Challenge students to spot all the butterflies on each others' pieces of paper. (Hint: If they hold the paper up to a window, they will be able to count all the butterflies.)
Book Connection: Where Butterflies Grow, by Joanne Ryder
Rainbow Catcher
What It Teaches: Visible light spectrum
What You Need: Junk-mail CDs, shallow aluminum pan, water, handheld mirror, white paper, direct sunlight
What to Do: On a sunny day, take students to the playground and give them each a CD. Have them hold the CD silver side up and pivot it in their hands to see the rainbow. What colors can they identify? Back in the classroom, fill a pan halfway with water and place it near a window through which the sun is shining directly. Place a mirror in the pan, slanted toward the window, to create a refracted beam of light. Hold a sheet of white paper up to the beam. The refracted light will create a rainbow on the paper. Have students compare the colors to those on the CD "rainbow." Discuss the fact that sunlight is a combination of seven colors (red, orange, yellow, green, blue, indigo, and violet).
Book Connection: Don Freeman's, A Rainbow of My Own
Made-to-Order Flower
What It Teaches: Structure of a flower, qualitative data
What You Need: White carnations, daisies, or mums; water; food coloring; clear plastic cups
What to Do: As a class, discuss how flowers drink water. Where does the water go? What if a flower drinks colored water? Do students think that a flower might like one color best? Have small groups put five drops of food coloring in the bottom of a cup. Fill cups with water and place a flower in each. Put one white flower in uncolored water as a control. Invite students to illustrate their flower and the control flower. Every other day, have children observe and illustrate changes to their flower and the control flower. Discuss daily changes. On the fourth day, have students revisit their hypotheses. After one week, invite children to take their flower and diary home.
Book Connection: Flower Garden, by Eve Bunting
---