From
Decoding Multisyllabic Words
Put your students on the road to reading fluency with these lessons on syllable spelling patterns.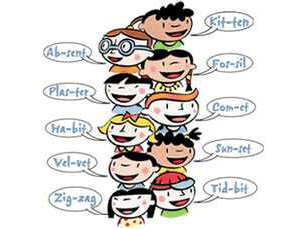 When children begin to learn how to read, they are greeted with simple, known words: cat, mom, and like. As they move through the grades, they are soon confronted with words such as habitat, subaquatic, and unrecognizable — words that can leave their heads swimming!
As students develop in their reading ability, they need to notice word parts, or "orthographic chunks," to help them decode these multisyllabic mysteries. For some students this is quite easy and natural; for others, it is a daunting task. Much can be done to help students' progress to the stage at which they readily notice larger parts of longer words to ease the decoding burden.
What Is a Syllable?
Early syllabication instruction should begin by providing explicit, multisensory lessons on the concept of a syllable. Try the following sample lesson in your classroom:
Distribute small mirrors to students, or have them find a partner to watch as he or she pronounces words.
Have students say aloud a series of words of varying lengths as they look in the mirror. Tell them to count the number of times their mouths open when saying the word. This is the number of syllables in the word. An alternative is to have the students cup their jaw and count the number of times it drops when saying the word. This is also a way to count the number of syllables.
Ask students to identify which part of the word causes the mouth to open (the vowel sounds). Point out to students that a syllable has one vowel sound.
Other Lesson Ideas
Ask students to generate a list of short words, then a list of long words. Compare the lists. Long words contain more letters and more syllables.
Ask students to repeat a series of words you say. As they pronounce each word, have students clap or tap the number of syllables. Start with compound words, progress to two-syllable words, then build to words of three and four syllables.
Ask students to repeat a series of words you say, but ask them to delete the first syllable in the word: "Say sunflower without the sun," or "Say robot without the ro." These phonemic-deletion tasks can progress to deleting ending syllables.
Six Common Syllable Spelling Patterns
Once students have mastered the concept of the syllable, begin teaching the six most common syllable spelling patterns. These include:
Closed: These syllables end in a consonant. The vowel sound is generally short. (Examples: rabbit, napkin)
Open: These syllables end in a vowel. The vowel sound is generally long. (Examples: tiger, pilot)
R-controlled: When a vowel is followed by r, the letter affects the sound of the vowel. The vowel and the r appear in the same syllable. (Examples: bird, turtle)
Vowel team: Many vowel sounds are spelled with vowel digraphs such as ai, ay, ea, ee, oa, ow, oo, oi, oy, ou, ie, and ei. The vowel digraphs appear in the same syllable. (Examples: boat, explain)
Vowel-silent e: These generally represent long-vowel sounds. (Examples: compete, decide)
Consonant-le: Usually when le appears at the end of a word and is preceded by a consonant, the consonant plus le form the final syllable. (Examples: table, little)
These common syllable-spelling patterns will provide students with insight into how words are put together. Since closed syllables are the most frequent, begin instruction there.
Understanding Closed Syllables
Key Concept: Explain to students that every syllable in a word has only one vowel sound. Write napkin and subject on the chalkboard. Divide the words syllable by syllable. Point out that the first syllable in each word ends in a consonant. Explain that this is called a closed syllable. Most closed syllables have a short-vowel sound.
As Dr. Allen and many other researchers contend, by the time struggling readers reach middle school, they are so used to failure and to meaningless exercises that they no longer have any interest in print. The goal of both the software and the literacy workshop is to give students a taste of success and build self-esteem. Technology, according to Dr. Hasselbring, is powerfully motivating to students and the multimedia approach of the software provides the systematic, consistent, leveled, and most important — nonjudgmental instruction that these students so desperately need.
Teacher Model: Write the word fabric on the chalkboard. Do not say the word, but provide time for students to examine the word's parts. Then model how to use syllabication strategies to read the word.
Think Aloud: I know that each syllable has one vowel sound. I see two vowels in this word separated by two consonants. If I divide the word between the consonants I get f-a-b and r-i-c. Both of these syllables are closed syllables since each ends in a consonant. Therefore, I will try the short-vowel sound when pronouncing each syllable: /fab/rik/. When I put these two syllables together, I get fabric.
Blending Practice: Write the words shown here (also in image above) on the chalkboard. Have students chorally read each word. Provide modeling as necessary.
kitten
absent
fossil
plaster
comet
habit
sunset
velvet
tidbit
zigzag

Through systematic, focused instruction on and flexible use of common syllable patterns, the ability of students to read longer words can be improved.
---