Completing a Job Application
Students practice filling out a job application form to familiarize them with the process, the language, and the personal information required.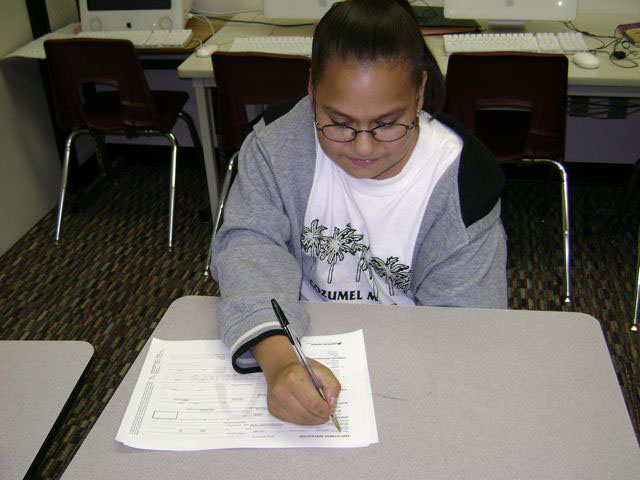 Objectives
Students will:
Use reading strategies to interpret text to neatly fill out an application
Understand, Identify, analyze, and apply knowledge of the purpose structure, clarity, and relevancy of filling out an application
---
Lesson Resources
---
During Instruction
Directions
Step 1: Explain to students that they may need or want to apply for part-time jobs soon, and you want to help prepare them for it. Tell them they will start by practicing filling out a job application form, and you have selected one from McDonald's to use as an example.
Step 2: Distribute the application forms. Read over the application and make sure students understand what information is required to complete the application.
Step 3: Remind students to write carefully and legibly so that employers can read the application.
Step 4: Most companies require that prospective employees provide a social security number on the job application or before they are hired. Briefly explain what a social security number is, and how you are assigned one. (Note: Students may not want to address this step if they are undocumented residents.)
Supporting All Learners
Walk around room to answer any questions that the students might have. Make sure they are all writing neatly. You may have to give some of the students another copy to start all over.
Lesson Extensions
Discuss the importance of obtaining letters of recommendation for prospective employers. Ask students to get a letter of recommendation from a teacher or previous employer (from jobs such as, babysitting, newspaper delivery, etc.). The letter should list the student's accomplishments and what would make them a good employee.
Assignments
Students will complete a job application form.
Evaluation
Did students fill out the application correctly and neatly?
Did they know the information needed to complete an application?
Review students completed job applications with company of personal interest
---
Post Instructional
Lesson Assessment
Observe students as they fill out their applications to see if any of the students need extra attention. Make a note of those students that do not finish so you can check on their progress during the next class session.
---